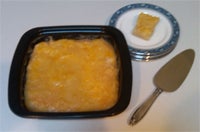 Appropriate for:
16 servings
Ingredients
Dough
1 cup AP Flour, sifted before measured
½ cup butter, at room temperature
¼ cup powdered sugar
Mix the ingredients into a dough and press into an 8 x 8 inch pan. Bake at 350° F for 20 minutes.
Directions
While the dough is baking, mix together the topping. Pour the topping evenly over the top of the dough and bake another 20 minutes at 350° F. Let cool and cut into 1 x 1 inch squares.
Analysis
Calories 122
total fat 6.5 g
saturated fat 3.9 g
monounsaturated fat 1.7 g
polyunsaturated fat 0.3 g
cholesterol 41.7 mg
calcium 11.2 mg
sodium 50.2 mg
phosphorus 24.2 mg
potassium 61.7 mg
total carbohydrates 15.1 g
dietary fiber 0.5 g
sugar 7 g
protein 1.8 g
Attribution:
This recipe was submitted by CKD patient Chef Duane Sunwold.