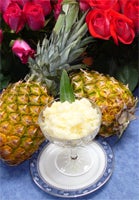 Appropriate for:
Serves 4
Ingredients
2 cups fresh pineapple
½ cup pineapple juice, unsweetened
1 tablespoon plus 2 teaspoons Frangelico
2 teaspoons Stevia
Directions
In a food processor, blend everything together, until smooth. Place in an ice–cube tray and freeze. When frozen, blend in a food processor one more time, making the sorbet fluffy. Re–freeze before serving.
Analysis
Calories 81
total fat 0.1 g
saturated fat 0.0 g
monounsaturated fat 0.0 g
polyunsaturated fat 0.0 g
cholesterol 0.0 mg
calcium 15.4 mg
sodium 3.6 mg
phosphorus 10.4 mg
potassium 140 mg
total carbohydrates 19 g
dietary fiber 1.2 g
sugar 12.7 g
protein 0.9 g
Attribution:
This recipe was submitted by CKD patient Chef Duane Sunwold.