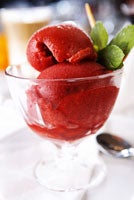 Appropriate for:
Serves 10 approximately 2 heaping tablespoons over 3 oz
Ingredients
30 oz. fresh sliced pineapple
Directions
In a food processor add strawberries, ½ cup lemon thyme simple syrup and process until smooth. Add the other ½ cup of simple syrup, orange and lemon juice. Mix and pour into ice-cube trays. Freeze. When frozen, remove cubes into the food processor and mix thoroughly. Pour back into the same ice-cube trays, cover, and freeze until needed.
Analysis
Calories 127
Total fat 0 g
Saturated fat 0 g
Monounsaturated fat 0g
Polyunsaturated fat 0 g
Omega-3 fat 0 g
Cholesterol 0 mg
Calcium 20 mg
Sodium 1.7 mg
Phosphorus 15 mg
Potassium 156 mg
Total carbohydrates 33 g
Dietary fiber 1.9 g
Sugar 29 g
Protein 1 g
Attribution: