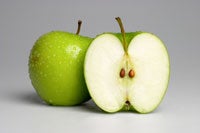 Appropriate for:
Serves 4 Approximately ⅔ Cup Per Serving
Ingredients
4 Granny Smith apples, peeled, cored, and sliced
2 teaspoons lemon juice
1 teaspoon ground cinnamon
½ cup brown sugar
⅛ teaspoon ground nutmeg
¼ teaspoon ground cloves
1 tablespoon all-purpose flour
6 tablespoons rolled oats
2 teaspoons honey
1 teaspoon canola oil
Directions
Coat sliced apples with lemon juice. Mix dry ingredients together, cinnamon, sugar, nutmeg, cloves, flour, and oats. Mix dry ingredients with apples and place in a nonstick baking dish. Drizzle honey over the top and spray the top with canola oil. Bake in a preheated 350°F oven for 40 to 50 minutes until the apples are tender.
Analysis
Calories 283
Total fat 3 g
Saturated fat 0.2 g
Monounsaturated fat 1.5 g
Polyunsaturated fat 0.7 g
Omega-3 fat 0.11 g
Cholesterol 0 mg
Calcium 42.7 mg
Sodium 55 mg
Phosphorus 86 mg
Potassium 277 mg
Total carbohydrates 65 g
Dietary fiber 4.3 g
Sugar 40.3 g
Protein 2 g
Attribution: