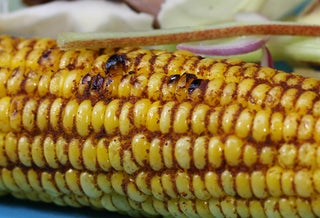 Appropriate for:
Serves 8, ½ corn cob per person Recipe makes 4 Corn Cob
Ingredients
1 teaspoon curry powder
1 teaspoon cumin
1 teaspoon smoked paprika
1 teaspoon salt-free garlic powder
Four corn cobs
Olive oil or vegetable oil (¼ teaspoon per corn cob)
Foil
Directions
In a small bowl, mix all your spices together. Then, clean your corn of the husk and roll it in ¼ teaspoon oil (you can use your hands to get it nice and slick but you can always use a pastry brush). Using your hand again, cover each cob with a teaspoon of the spice blend.
Analysis
Calories: 125
Fat: 2.5g
Carbohydrates: 26 g
Protein: 4.5 g
Sodium: 22 mg
Potassium: 388 mg
Phosphorus: 125 mg
Calcium: 7 mg
Attribution:
This recipe was submitted by Jess Goldman Foung, aka Sodium Girl. For more information on Jess visit her website at sodiumgirl.com.