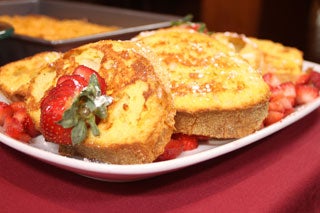 Appropriate for:
Number of servings: 10 Approximately 1–2 slices
Ingredients
1 Loaf French Bread
1 ½ cups Egg Beaters
½ cup Pineapple Juice
1 tablespoon vanilla extract
Strawberries
Powdered Sugar
Butter Flavored Cooking Spray
Directions
Cut a loaf of French Bread into 1 inch slices and leave them out overnight to dry out. In a mixing bowl, mix egg beaters with 1/2 cup of pineapple juice, and one tablespoon of vanilla extract. Dip dry bread into mixture, coating both sides, and allowing excess to drain off. Spray baking sheet with cooking spray. Place dipped bread slices on baking sheet. Cover the bread and refrigerate overnight. Pre-heat your oven to 350 degrees F, uncover the bread and bake for 20 minutes or until the bread is golden brown. Serve with fresh strawberries and powdered sugar. For those with diabetes, use powdered sugar sparingly.
Analysis
Calories: 110
Protein: 5.9 g
Carbohydrate: 18.6 g
Cholesterol: 0 mg
Fat, Total: .8 g
Saturated Fat: .16 g
Monounsaturated Fat: .31 g
Polyunsaturated Fat: .20 g
Dietary Fiber, Total: 1 g
Sugar, Total: 4.9 g
Sodium: 221.6 mg
Potassium: 119.9 mg
Calcium: 35.3 mg
Phosphorus: 54.7 mg