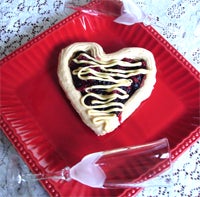 Appropriate for:
Meringue
Ingredients
3 egg whites, chilled
½ cup granulated sugar
Directions
Pre–heat the oven to 275° F., beat chilled egg whites until they form stiff peaks, then slowly add granulated sugar. On parchment paper draw 4 hearts as your outline (3 ½ inches at the widest by 3 ½ inches in length). Place the parchment paper on a cookie sheet. Fill the heart outlines with meringue, causing a dip or bowl like indentation. Bake the meringue for 1 hour, turn off the oven, don't open the door and leave the meringue in the oven over another 2 hours. This will dry out the meringue. After cooled, store the meringue in an air tight contain for up to 3 days.
Analysis
Calories 155
total fat 3.7 g
saturated fat 2.3 g
monounsaturated fat 0.9 g
polyunsaturated fat 0.2 g
cholesterol 1.9 mg
calcium 28.7 mg
sodium 33 mg
phosphorus 27 mg
potassium 119 mg
total carbohydrates 27 g
dietary fiber 2.5 g
sugar 23.5 g
protein 2.6 g
Attribution:
This recipe was submitted by CKD patient Chef Duane Sunwold.