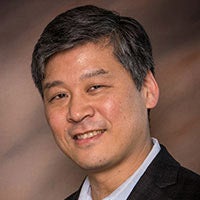 Michael J. Choi, MD
NKF Immediate Past President
Division Director of the Nephrology and Hypertension Division.
MedStar Georgetown University Hospital
Washington, DC
Nephrologist Michael Choi, M.D., is immediate past-President of the National Kidney Foundation (NKF). Dr. Choi recently joined MedStar Georgetown University Hospital as Division Director of Nephrology and Hypertension. He was the Clinical Director of Nephrology at the Johns Hopkins University School of Medicine where he won numerous teaching awards. Dr. Choi has won the Garabed Eknoyan Award for outstanding contributions to the NKF. He has been Chair of the NKF Education Committee and Chair of the 2011 NKF Spring Clinical Meetings. Dr. Choi is on the American Board of Internal Medicine Test Writing Committee and has been part of the American Society of Nephrology Post-Graduate Education Committee.
Dr. Choi has a personal connection to kidney disease through his family. His uncle is on dialysis and father-in law has had a kidney transplant. This is his way of helping patients, like his family members, to have kidney disease detected early. To help improve the early detection of kidney disease he partners with primary care providers and other specialists.