Are you at risk? Answer a few questions.
Videos
This video, geared towards patients, includes a conversation between a healthcare professional and a patient that highlights key guidance for people with both chronic kidney disease and gout.
Hear from a patient as he looks back on a life with gout and how he has dealt with it medically, physically, and emotionally.
Patient Focused Infographic
An easy to understand infographic available for download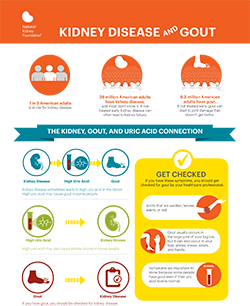 English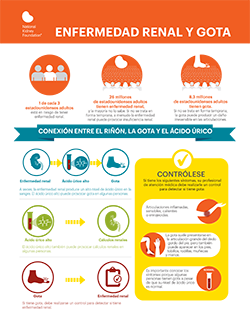 Spanish
Quick Facts: Gout and Chronic Kidney Disease
Some quick facts to keep in mind when treating CKD and gout.
Read on
Gout Fact Sheet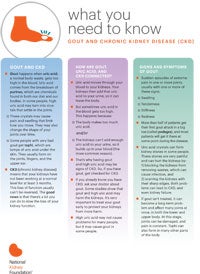 An easy-to-understand fact sheet informing patients about gout and CKD, and why and how they should manage both conditions.
&nbsp
Gout and Uric Acid Tracker
Track your
serum uric acid (sUA)
level (amount of uric acid in your blood),
estimated glomerular filtration rate (eGFR)
and
albumin-to-creatinine ratio using
the online
Gout and Uric Acid Tracker
by
clicking here
(Excel download), or by printing out the
PDF version
.
Mobile App
"Gout Central"
our newly updated mobile app for patients empowers the user with the most essential tools and information for controlling gout and protecting their kidneys. Guidance is provided on optimal use of nutrition, lifestyle, and medication for the prevention and treatment of gout flares.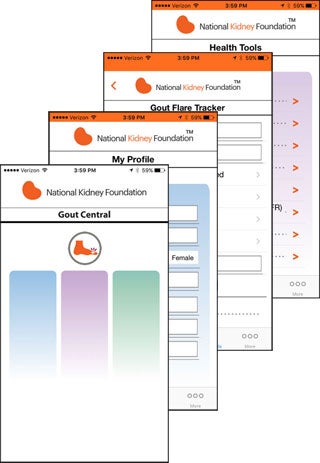 Additional Educational Resources