Video
This video, directed towards clinicians, addresses the importance and rationale for CKD screening in patients with gout, and why it is crucial to monitor kidney function during treatment.
Report from NKF Scientific Workshop
Have access to a published report that came from the NKF Scientific Controversies Conference on Hyperuricemia, Chronic Kidney Disease and Gout: What Are The Relationships?
Report Coming Soon!
Quick Facts: Gout and Chronic Kidney Disease
Some quick facts to keep in mind when treating CKD and gout.
Read on
Teaching Card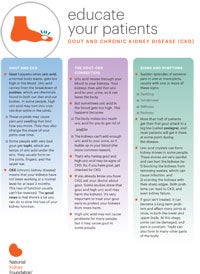 A laminated card for clinicians to use when teaching patients about gout and chronic kidney disease.
Gout Fact Sheet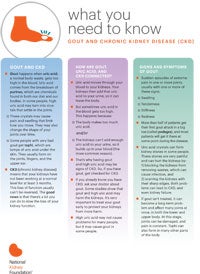 An easy-to-understand fact sheet informing patients about gout and CKD, and why and how they should manage both conditions. Can be distributed in your office or dialysis setting.
Mobile App
"Gout Central"
our newly updated mobile app for patients empowers the user with the most essential tools and information for controlling gout and protecting their kidneys. Guidance is provided on optimal use of nutrition, lifestyle, and medication for the prevention and treatment of gout flares.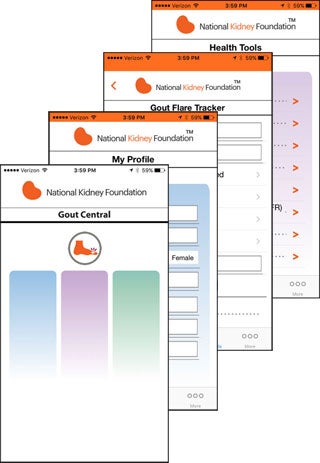 Awareness and Education Needs for Gout and CKD: Survey of Opinions and Practices of Health Care Professionals
This clinician survey was self-administered online and was conducted among 302 medical professionals who provide primary or nephrology care in the United States to adults with CKD. It was focused on exploring their opinions and practices in testing and treating these patients for gout/hyperuricemia.
Download
Additional Educational Resources