A Community That Cares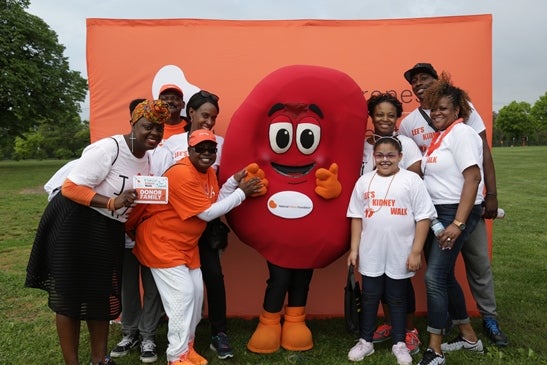 The National Kidney Foundation's 2018 Long Island Kidney Walk took place on Sunday, May 20th, in Westbury, NY. It was a celebration of life for the friends and families of the Long Island kidney community, with around 1,000 individuals uniting to raise nearly $90,000. Longtime NKF volunteer and LiveOn NY employee, Chris Melz, emceed the Opening Ceremonies with his trademark enthusiasm and can-do attitude. Andrew Yellen, Director of Operations at Fresenius Medical Care - Long Island, also spoke during the program. He emphasized the importance of the NKF/FMCNA partnership, re-iterating how happy they were to be the National Presenting Sponsor for the Kidney Walk program. Following his speech, living donors and recipients were presented with an orange rose to recognize what they have been through.
We're happy to report that fair weather held out for the duration of the event, allowing everyone to enjoy the beauty of Eisenhower Park. The festivities included face-painting, a DJ, and the opportunity to learn more about Kidney Health and healthcare providers. Top fundraising team, Brenda's Band, raised $11,505 and proudly carried the tribute banner as they lead the 3-mile Walk around Eisenhower Park. They walked in honor of Brenda Mazzara, who was diagnosed with lupus in 2011, leading to kidney failure in 2013. Sadly, the Long Island community lost Brenda shortly after last year's Walk in June of 2017. In previous Walk's the team name had been Kidney Cousins, as a nod to the fact that Brenda's cousin, Michael, was approved to be a donor through a small chain. After Brenda's passing they decided to carry on her memory by reigniting the team as Brenda's Band for the 2018 Long Island Kidney Walk. This year, they were led by Brenda's daughter, Caitlin Murphy, and long time friend, Annette Cippolla. As a special surprise, Brenda's daughter, Vanessa, flew in from Las Vegas to join them.
The Top 10 Fundraising Teams and their Captains:
Brenda's Band – Caitlin Murphy - $11,505
Henry Schein Dialysis – Ashley Meekins - $5,150
Team Teger – Jeanine Teger - $5,150
Transplant Trotters – Andrew Dobish - $4,656
Jim's Orange Team – Jim McIntosh - $3,780
Team LIJ Dialysis – Janet Posadas - $3,270
Lee's Kidney Team – Leonora Maloney - $3,155
Chrissy's Kidneys – Christina Murray - $2,600
NUMC/AHP Dialysis Unit – Alyssa Idaspe - $2,595
Keepin' it Renal – Danielle Sala and Andre Balfour - $1,650
We'd like to thank our local sponsors and exhibitors: Azura Vascular Care, Logisticare, Cassena Care, New York Community Bank, and LiveOn NY. We'd also like to extend our sincere gratitude to in-kind sponsors RXBar and Bai.
We hope that you can join us either at the NYC Kidney Walk, or next year in Long Island, to experience this unique celebration of life!
To view photos of the event, click here to visit our Facebook page.
Planning is already underway for the 2019 Long Island Walk, If you'd like to get involved please contact Sean Rugenstein at (212) 889-2210 ext. 296 or at sean.rugenstein@kidney.org.