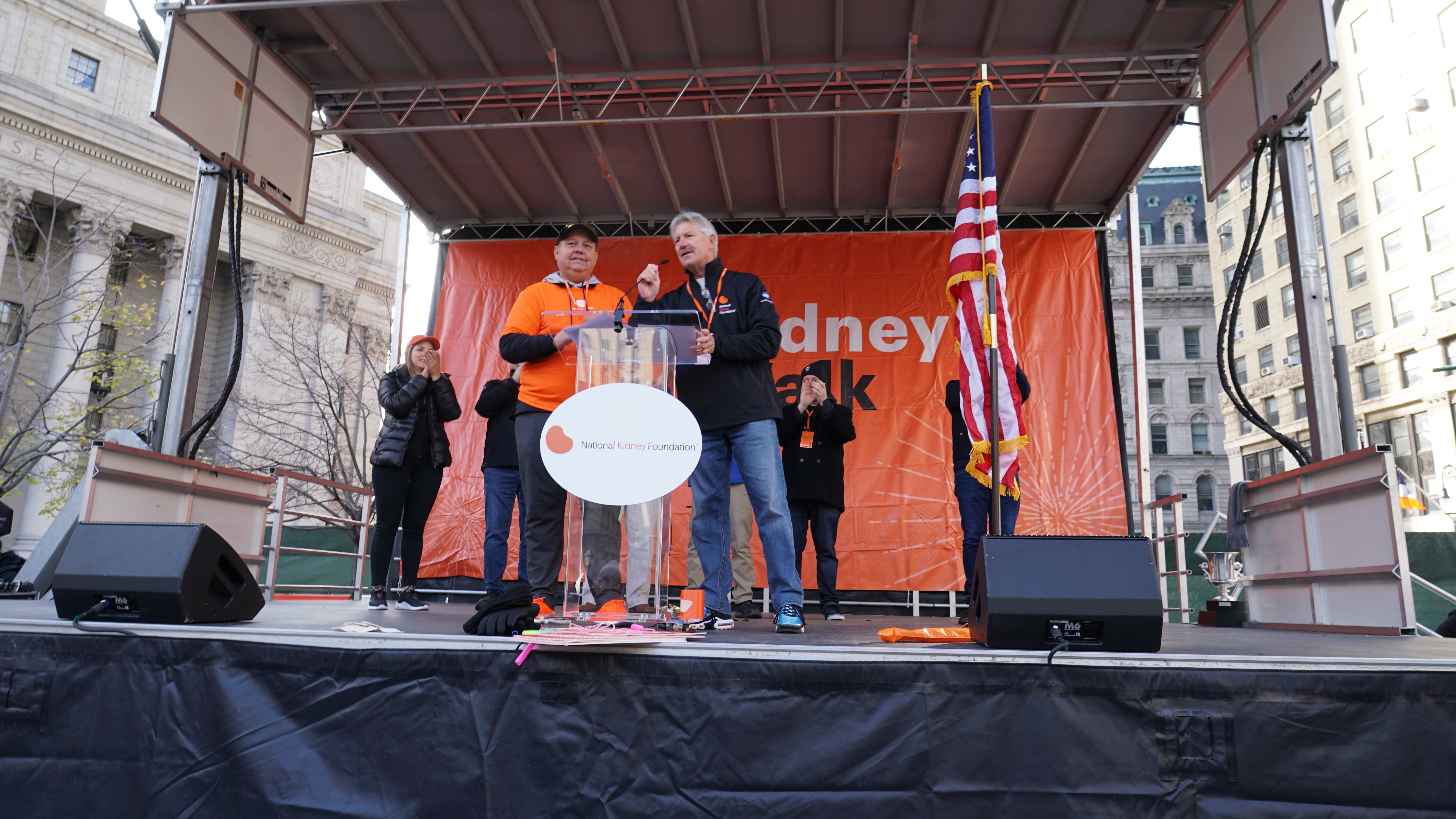 Sunday, November 10th marked the 18th Annual New York City Kidney Walk. Over 4,000 walkers gathered in Foley Square to celebrate life, raise awareness for the 37 million Americans impacted by kidney disease and raise crucial funds for the National Kidney Foundation's (NKF) life-changing programs. This year's walk broke last year's record, raising $1.1M and counting thanks to the NKF's volunteer leaders, walkers, sponsors and donors.
The ceremony was opened by Shani Kulture of Hot97 and included Senate Minority Leader, Charles Schumer, addressing the crowd and presenting the coveted Kidney Cup to the winners of their respective brackets, Fresenius Medical Care North America (dialysis) and New York–Presbyterian/Weill Cornell Medical Center (transplant). 2019 NYC Walk Co-Chairs, Rick Taylor, President and Chief Executive Officer of Konica Minolta and Larry Weiss, President of Atlantic Tomorrow's Office, recognized the Top Fundraising Teams and Walkers and announced the fundraising total to the thousands of participants in the crowd.
"Partnering with the National Kidney Foundation as a 2019 National Walk Team Sponsor has been a rewarding experience for Konica Minolta and it's employees." said Rick Taylor. "We support over 20 charities nationally, giving back more than $10M a year, and are proud to work with such an impactful organization to help the 37 million Americans suffering from Kidney Disease."
Taylor added, "Being a National Sponsor and also being the co-chair of the NYC Walk, I learned that so many Konica Minolta employees, direct customers, dealers, friends and family members are directly impacted by the disease and I was inspired by our team's motivation to help raise awareness and record breaking funds for this important cause."
"At Atlantic, giving back to the communities we serve is part of our corporate DNA," said Larry Weiss. "We endeavor to make positive change and have established many community and philanthropic partnerships over the years supporting not-for-profit organizations who make a difference. The NKF is very important to us, and one we are personally involved with to help raise funds and promote the good work of the staff and volunteers. It is imperative that we lead our communities by including kidney health in the larger public health conversation."
Support for the Walk came from a wide range of organizations including, National Presenting Sponsor, Fresenius Medical Care North America, National Multi Market Partners, Azura Vascular Care, Logisticare and Relypsa. Local support was provided by Local Presenting Sponsors, Atlantic Tomorrow's Office and Konica Minolta, as well as CIT, Stone Point Capital, Atlas Acon Electric, Facebook, Mount Sinai Recanti/Miller Transplantation Institute, NewYork-Presbyterian Weill Cornell Medical Center, Seyfarth, Thomson Reuters and many more.
Stay tuned for details about the 2020 NYC Kidney Walk and to view pictures of this year's event on the NKF Serving Greater New York Facebook page. This historic day was also captured on NY1.
Donations are still being accepted. You can join the movement by making a donation online until February 10. Donations can also be mailed to:
ATTN - 2019 NYC Kidney Walk
National Kidney Foundation
30 E 33rd St
New York, NY 10016
If you are supporting a specific person/team, include the team name and walker name to ensure it is properly credited.