Ramsey, NJ – May 15, 2018 – Chronic Kidney Disease (CKD) is a national health care crisis, and Konica Minolta Business Solutions USA, Inc. (Konica Minolta) has made it a priority within their company and the community where they do business.
As a part of the National Kidney Foundation (NKF) Drive for Dialysis corporate volunteer program, employees were also educated about the risk factors for CKD and the importance of early detection. Most of all, they gained a better understanding of why their kidney health is so vital.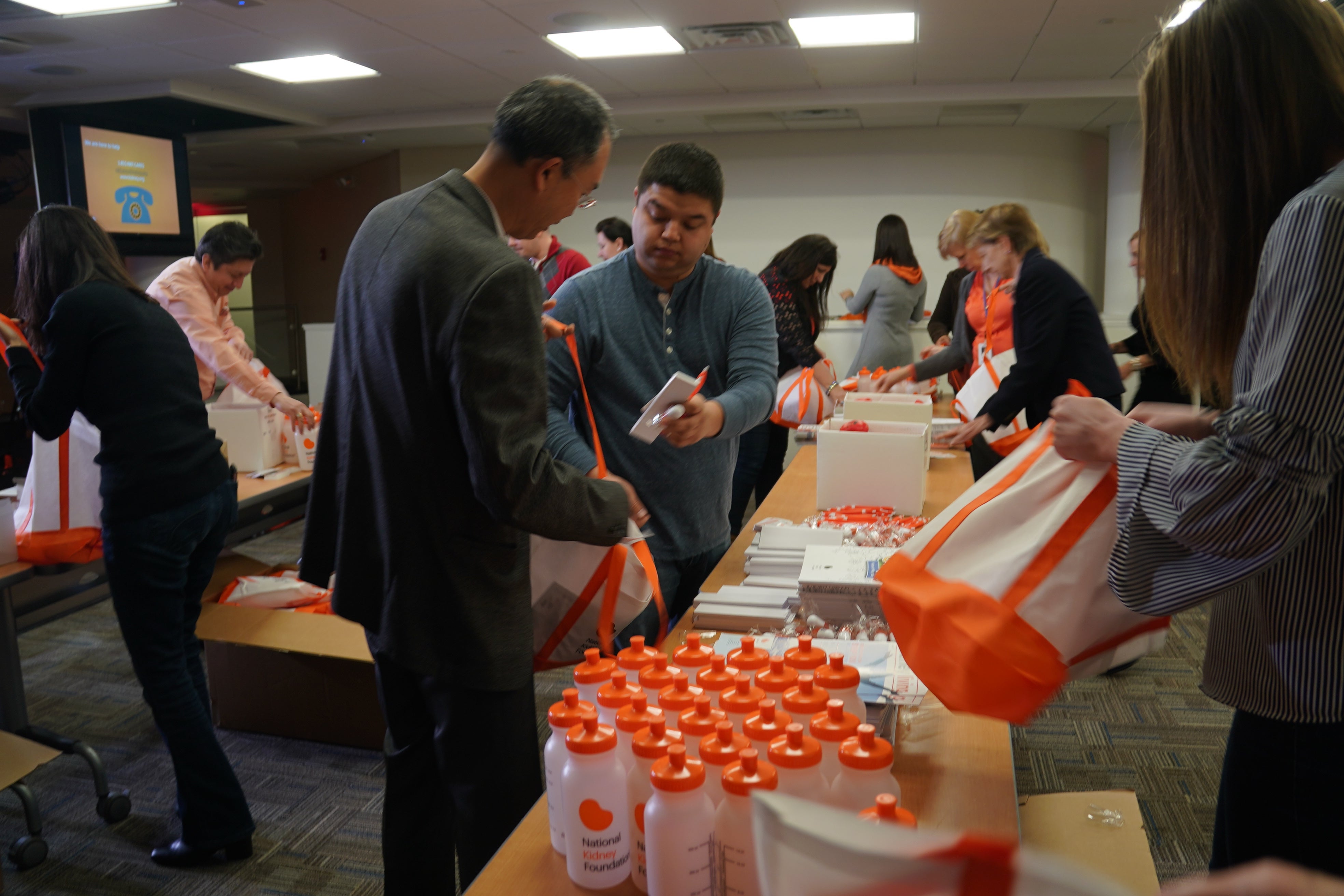 While a kidney transplant is the best treatment for kidney failure, for many of the 123,000 Medicare patients diagnosed with CKD in New Jersey, dialysis is a current lifeline that provides hope through a challenging time. Understanding that most patients spend up to 12 hours a week receiving treatment, the care packages were intentionally designed to be educational and entertaining. Konica Minolta employees added a personal touch by adorning the packages with hand-written notes with inspirational messages to their neighbors.
"As a company, we are genuinely committed to supporting this critical cause. Our President and CEO, Rick Taylor, happens to be a kidney cancer survivor. So, to us it's personal." said Kay Du Fernandez, Senior Vice President, Marketing, Konica Minolta. "It was incredibly satisfying for everyone to be involved on such an intimate level to try to make a difference in the lives of those who have been affected by kidney disease."
The partnership continued into April, which was National Donate Life Month, when Konica Minolta representatives personally delivered the packages to clinics in Hackensack and Paramus, New Jersey. Staff at the dialysis centers welcomed the Konica Minolta employees with open arms and smiling faces. With more than 2,200 New Jersey residents currently awaiting a lifesaving kidney transplant, the timeliness of this partnership is critical. Thanks to Konica Minolta's support, vital NKF resources reached the people that need it most.
"NKF and our community partners strive to provide comfort and support through volunteerism," said Meg Gilmartin, Executive Director of the National Kidney Foundation Serving Greater New York. "Our partnership with Konica Minolta exemplifies that and we are incredibly grateful for their generosity."
In addition to their partnership in Drive For Dialysis, Konica Minolta is also the title sponsor of the NKF Konica Minolta Golf Classic, the Premier Amateur Golf Event for Charity.
Host a Drive for Dialysis: Challenge your staff to join the fight against kidney disease by hosting a hands-on, in-office volunteer event. You and your team can assemble care packages for dialysis patients in the community where you live and work – brighten their spirits and make the long hours of treatment a little more bearable. Maximize your impact and educate your workforce about the risk factors of chronic kidney disease.