President's Corner -- Michael Choi, MD, FNKF
November 04, 2016, 1:07pm EDT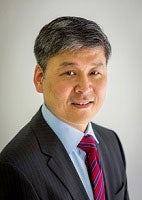 I am deeply honored to serve as the 23rd President of the National Kidney Foundation. The previous Presidents have been incredible leaders in nephrology and have greatly helped the NKF serve our patients. Our immediate Past President, Jeffrey Berns, has been instrumental in directing clinical practice guidelines, reestablishing research funding, and guiding our Scientific Advisory Board. My role at the NKF has primarily been focused on education. I served as the KDOQI Vice-Chair of Education where our Committee promoted implementation of clinical practice guidelines. More recently, we have formed the NKF Education Committee, which will provide guidance to the NKF regarding educational outreach and resource development.
As President, I am determined to increase awareness of kidney disease. The NKF recently hosted the CKDintercept Summit which engaged the government and commercial insurers, health networks, medical technology industries, and laboratory partners to develop strategies to reduce preventable kidney disease and its progression. One important theme from the summit was to sharpen the focus on CKD in the primary care arena. Here, I have been enthusiastically involved in the design and the delivery of the NKF CKDinform program, which was launched to provide CKD knowledge and educational tools to our primary care colleagues to enhance earlier diagnosis and treatment of CKD. During my term, I intend to work with the NKF's divisions and affiliates to increase the successful deployment of this program. Intensive effort will be directed in our attempt to demonstrate that early CKD intervention decreases health care costs. Right now, we are working with health care systems, developing a CKD registry, and hoping to launch a randomized controlled trial with the hypothesis that targeted screening of at-risk individuals and early diagnosis and treatment will improve patient outcomes, quality of life, and heath costs. Novel health care delivery models will seek to reward value and prevention for cost savings. At the governmental level, we are developing new care models that reward team based care, timely nephrology referrals and informed decision making for patients regarding renal replacement therapy modalities.
These goals are achievable, if and only if, the most important stakeholder is engaged, and I am referring to our patient population. Clearly, we must work harder to raise awareness of kidney disease in order to truly inform our patients. Our Chief Executive Officer, Kevin Longino, Chairperson Art Pasquarella, and the Central, Division, and Affiliate staffs are working on innovative approaches to bring kidney disease to the forefront of the public. I plan to join other nephrology patient and professional societies to make this a fundamental priority in nephrology.
I am thrilled to be part the NKF team and to add my service to yours on behalf of our principal stakeholder, our patients. Please support our efforts.
Thank you.