On March 7, 2015 the National Kidney Foundation Celebrated Life at the 2015 Kidney Gift of Life "All that Glitters is Gold" Gala at Heinz Field's West Club Lounge!
This year's Gala featured live entertainment by Protégé as well as a VIP reception, open bar, sit down dinner, and silent and live auctions.
The night featured a VIP Reception to honor our 2015 Gift of Life Awardees. This year's Gift of Life Awardees were: Mark Costanzo, President, Renal Therapies Group of Fresenius Medical Care; Dr. David Levenson, Section Chief, Renal Division and Vice-Chair of Medicine, UPMC Shadyside; Clinical Professor of Medicine, University of Pittsburgh School of Medicine; Medical Director, DaVita Pittsburgh Dialysis Unit; and, Partner, Partners in Nephrology and Endocrinology (PINE); Dr. Richard L. Simmons, Distinguished Service Professor of Surgery, Chairman Emeritus, Department of Surgery, Medical Director, UPMC; and James Conner, University of Pittsburgh Sophomore Running Back. The awardees epitomize the profound commitment that is essential in providing the best quality of life for those affected by chronic kidney disease.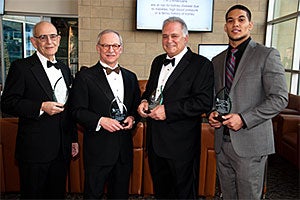 This year, the National Kidney Foundation raised a record-breaking $195,000 at the Kidney Gift of Life Gala! The funds raised at the Kidney Gift of Life Gala enable us to help tens of thousands of local residents in our 80-county territory who have Chronic Kidney Disease (CKD), including those who are on dialysis and/or are anxiously awaiting a transplant.
Thank You to this Year's Sponsors:
Sat, 03/07/2015 - 2:00pm
Jade Mills
Email:
jade.mills@kidney.org
Phone:
(412) 261-4115