Renal Roundtable Series
A Program for Physicians and Advanced Practitioners
This unique dinner series provides a networking opportunity among colleagues in the field of nephrology, compelling presentations by thought leaders in chronic kidney disease, and an opportunity for group discussion following the presentation. This program is open to physicians (all specialties and primary care) and advanced practitioners.
The evening's Renal Roundtable program, including dinner, is complimentary to attendees. Space is limited, registration required for each of the three evening series.
Sponsorship opportunities available. Please contact JoAnna.Rogers@kidney.org or 913.262.1551 ext. 473 for inquiries.
Upcoming Events
September 6, 2018
Systolic Blood Pressure Goals in Hypertensive Persons without and with Diabetes: Reconciling SPRINT and ACCORD-BP Findings
The current ACC/ AHA guidelines recommend a systolic blood pressure goal of < 130 mm Hg. However, other societies such as ACP/AAFP criticized that goal, partly because of the discordant results of intensive SBP lowering in hypertensive persons with diabetes (ACCORD-BP) and without diabetes (SPRINT). This talk will delve into these discordant results and provide a framework for reconciling these findings.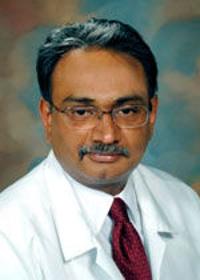 Led by Srinivasan Beddhu, MD
University of Utah School of Medicine, Salt Lake City Dr. Srinivasan Beddhu is a tenured Professor of Internal Medicine at the University of Utah School of Medicine, Salt Lake City, UT. He is a graduate of Stanley Medical College, Chennai, India. His research focus is on cardiovascular disease, nutritional status and lifestyle factors in CKD and dialysis patients. His research has been supported by multiple NIH grants as well as industry funding. He served as the Co-Director of the Utah Clinical Center Network and the Utah site- PI in the NIH funded Systolic Blood Pressure Intervention Trial (SPRINT). He has over 100 publications including peer review journal articles in leading medical journals, book-chapters and review articles. He has also been active as a mentor to medical students, residents, fellows, graduate students and post-docs.
---
November 8, 2018—To Be Announced
---
Program Committee
Aditi Gupta, MD, FNKF
University of Kansas Health Systems
Amna Ilahe, MD
University of Kansas Health Systems
Adnan Khan, MD, FASN, FNKF
University of Missouri-Kansas City School of Medicine
Truman Medical Center
Marilee Clites, RN
Research Medical Center
Christine Corbett, MSN, FNP-BC, CNN-NP, FNKF
Truman Medical Center
Yolanda Thompson-Martin, DNP, RN, ANP-C, FNKF
University of Missouri-Kansas City School of Medicine
Truman Medical Center
Amit J. Patel, MD, FASN
University of Missouri – Kansas City School of Medicine
Hemender Vats, MD
Midwest Nephrology Consultants
Ryan Lustig, MD
Kansas City Kidney Consultants
Reem Mustafa, MD, MPH, PhD
University of Kansas Health Systems
Ahmed Awad, DO
Kansas City Kidney Consultants
JoAnna Rogers
National Kidney Foundation
Alexandra Garrick
National Kidney Foundation
Thank you to our Sponsors and Exhibitors



NKF Serving Western Missouri, Kansas and Oklahoma
6405 Metcalf Avenue
Suite 204
For information about this event contact:
JoAnna Rogers JoAnna.Rogers@kidney.org 913-262-1551 ext. 473