Information for Healthcare Professionals
1 in 3 American Adults is at risk for kidney disease
Siemens Healthcare Diagnostics supports the goals of the National Kidney Foundation to increase awareness, prevention, and treatment of chronic kidney disease (CKD). Through early intervention and education, the Alliance encourages timely testing for at-risk individuals by Primary Care Practitioners.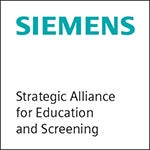 For more information on urine ACR testing, please visit: siemens.com/acr
National Kidney Foundation is not involved in the manufacture of any Siemens Healthcare Diagnostics products. Always consult a physician or qualified healthcare provider for advice regarding your health.