Evaluation and Management of Hyperkalemia "Master Class"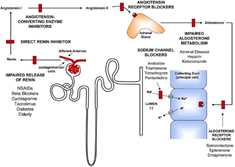 Thank you for your interest presenting on the topic of hyperkalemia.
Program Description
This program will address the clinical challenge of hyperkalemia in chronic kidney disease (CKD). The pathophysiology of hyperkalemia will be described. Appropriate clinical evaluation and management of hyperkalemia will also be discussed.
This educational resource includes PowerPoint slides, speaker-notes, and a presenter instructional video. These Master Class slides can be utilized in grand rounds, local staff education programs, regional medical conferences, or any other live educational setting. The presentation can be used in its entirety, as a stand-alone program, or individual slides can be used to supplement a program you are designing. This resource has been designed to meet the learning needs of all healthcare professionals, as it relates to hyperkalemia.
Program Agenda
Pathogenesis of Hyperkalemia
Evaluation of Hyperkalemia
Hyperkalemia Management
You can download the following program content:
Feedback
If you plan to present, we would appreciate it if you can send the following forms to help us measure outcomes and develop new educational activities.
Contact us at garyb@kidney.org or (212) 889-2210 ext 154 with any questions on the program.
NOTE: This program has not been accredited for CME/CE credits

This presentation was funded by and created in collaboration with Relypsa