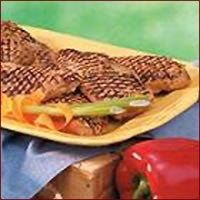 Most take-out food is convenient and tasty and the Kidney Kitchen is out to duplicate these qualities without packing on the pounds or pouring on the salt. With simple changes in preparation and ingredients, often a high-sodium, high-fat recipe can actually be turned into a healthful dish.
Take, for example, sesame chicken. This popular Chinese-American dish contains soy sauce, sugar, oil and deep-fried chicken. The dish is high in taste but also high in fat, calories and sodium. By substituting reduced sodium soy sauce for its regular counterpart, honey for sugar, and by grilling instead of deep frying, the Kidney Kitchen's Grilled Chicken Sesame recipe is kidney and taste bud-friendly.
Grilled Chicken Sesame
Serves 4 (1 Chicken Breast Half per Serving)
Ingredients:
1 tablespoon sesame seeds, toasted
2 teaspoons grated ginger
2 tablespoons honey
1 tablespoon reduced sodium soy sauce
1 tablespoon sherry
4 4-oz skinned, boned chicken breast halves
Vegetable cooking spray
Combine first 5 ingredients in a small bowl. Set aside. Flatten chicken pieces to 1/4-inch thickness using a mallet or rolling pin. Spray grill with cooking spray. Grill chicken over medium-hot coals 4 minutes each side, basting frequently with soy sauce mixture. Transfer to serving platter.
Analysis:
Carbohydrates 11
Protein 27
Fat 3
Sodium 235
Potassium 302
Phosphorus 232
For more healthy and delicious recipes, visit the Kidney Kitchen