Top 5 Ways to Have a Happy, Healthy and Kidney-Friendly Holiday Season
While the holiday season means it's time to let loose, your clothes can begin to feel tighter as parties fill up space on both your calendar and your waistline. But there are ways to enjoy the festivities without compromising your health and fitness. Click here for the National Kidney Foundation's Top 5 Ways to Have a Happy, Healthy and Kidney-Friendly Holiday Season.
Kidney–Friendly Chicken Delight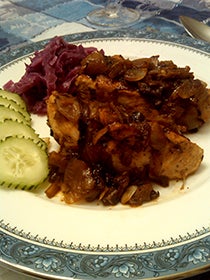 During the holiday season, sweets and fried foods often dominate the plate. This delicious, flavorful Maple Balsamic Chicken is a great alternative that doesn't sacrifice taste for health. Those following a kidney-friendly diet can also enjoy!
Kidney Failure Patients Missing out on Convenient, Cost-Effective Therapy, Study Says
Home dialysis offers patients a better quality of life, more control over their own schedule and it's also more cost-effective. Yet most people with kidney failure aren't even aware that it's an option. A new report, published in NKF's American Journal of Kidney Diseases, explains why only 35,000 of the 382,000 dialysis patients in the U.S. benefit from this therapy.
Like Mother, Like Son: Donation Runs in the Family
Hurry up and wait. Sound like your holiday season so far? When the line to see Santa snakes down the escalator, when the post office clerk asks you to take a number in the six digits, when your nose turns to ice while waiting all night to buy the latest video game, consider this: more than 90,000 men, women and children are waiting for kidney transplants in the U.S. The Letson family is doing their part to help end the wait. Both mother and son donated kidneys to those in need. This holiday season, read about their ultimate gift—the gift of life.
Put the Brakes on Holiday Shopping, Get a Tax Break by Donating Your Car
If your holiday shopping is breaking the bank this season, think about giving yourself a break by donating your old car. This gift will drive programs in education, advocacy and early detection while giving you a year-end tax deduction. Click here to learn more about this gift idea that helps you and those in need at the same time.