Top 5 Ways to Cope with the Side Effects of Dialysis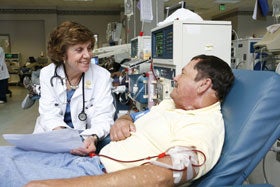 While dialysis is a lifesaver when the kidneys are no longer able to keep the body in balance, thousands of dialysis patients experience side effects of treatment. Click here to see the National Kidney Foundation's list of the five most common side effects, along with tips and advice on how to manage them so that you can benefit from your dialysis treatment while avoiding some of the discomfort.
Calling All Unhealthy Recipes!
It's a New Year and a new chance to improve your eating habits! If you want to eat healthier, but cannot bear the thought of giving up mac n' cheese for alfalfa sprouts, the National Kidney Foundation can help. Healthy eating can help prevent kidney disease and the major factors that lead to it—diabetes and high blood pressure, which is why the NKF and B. Smith, lifestyle maven, have teamed up. Together we're bringing awareness to kidney disease prevention with the "B. Healthy Recipe Makeover Contest". To learn more about the contest and submit your favorite unhealthy recipe for a makeover.
Soup for the Soul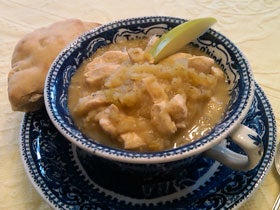 The air is frozen and snow's on the ground. Take a break from shoveling the sidewalk and throwing snowballs and curl up under a blanket while enjoying this kidney-friendly recipe for smoked chicken and apple soup. It's guaranteed to warm you up! As a bonus, it also freezes well, so make extra to have on hand to heat you up throughout the winter.
Reach for a Glass and Your Body May Benefit
Is your body craving fruits and veggies after indulging in a few too many holiday temptations? Did your New Year's resolution this year include eating healthier? If so, you should consider adding pomegranate juice to your grocery list! Pomegranates are high in antioxidants and according to a recent study, pomegranate juice can positively impact the health of kidney patients. Read more about the benefits.
Donate Your Card
Leftover balance on your holiday giftcards? Rather than letting these get buried in the bottom of a drawer, carry on the holiday giving spirit and put your leftover dollars to good use. Donate your VISA, MasterCard, Discover and American Express prepaid giftcard balance to the NKF and it will be put towards our lifesaving programs. You'll be helping the 37 million Americans with kidney disease and you'll have one less thing lying around the house collecting dust! For more information and to donate.