Love your Kidneys Newsletter May 2012
NKF's 5 Tips to Help You Quit Smoking
Smoking is like stepping on the accelerator -- it can worsen any disease that you already and cause kidney disease by slowing the blood flow to these vital organs. Quitting can be difficult, so to get you started on the path to stopping, the National Kidney Foundation offers 5 Tips to Help You Quit Smoking. If you don't smoke, pass these tips and some words of encouragement along to a friend or family member.
Olympic Athlete Hits the Ground Running in the Fight Against Kidney Disease
Jon Rankin, an Olympic athlete is rising above his kidney disease diagnosis and racing towards the Summer 2012 Olympic Games. Next up: the UAE Healthy Kidney 10K in Central Park. He's hoping to break both stereotypes and records as he raises money and awareness in the fight against kidney disease.
Top 10 Things Every Dialysis Patient Should Know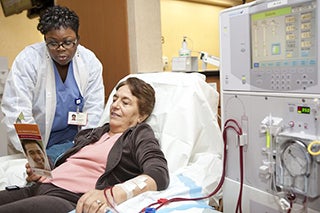 When kidneys aren't able filter the blood on their own anymore, dialysis can help the kidneys do their job and help those with kidney failure live longer, healthier lives. How do you choose a treatment that is right for you? Here are the Top 10 Things Every Dialysis Patient Should Know, from the National Kidney Foundation.
Chicken and Zucchini Quiche
This Mother's Day, give Mom a break from the daily scramble and whip up this savory chicken and zucchini quiche that's also kidney-friendly. Show her your love and enjoy!
Kids with Acute Kidney Injury in the ICU at Increased Risk for CKD
For the first time, new research links one time kidney injury in children to higher risk of developing chronic kidney disease later in life. Find out what Acute Kidney Injury (AKI) is and why long-term follow up is necessary to prevent kidney disease.
Attend the Premier Conference for Kidney Care
If you're a professional, you won't want to miss the educational opportunities at the 2012 NKF Spring Clinical Meetings. Patients, urge your kidney healthcare team to attend and stay tuned for post-meeting kidney research updates in Love Your Kidneys!