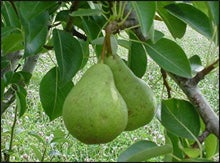 It's that time of year again when you feel the cool breeze in the morning and the sun begins to set earlier each day. An outing to your local farm stand or orchard is the perfect way to enjoy the foliage and the fall fruit. But don't just settle for the usual Macintosh apple--go for a nice Anjou or Bartlett pear and make a nice autumn snack--a pear and almond parfait that's kidney friendly.
Pear & Almond Parfait
(4 servings)
Ingredients:
2 cups rice milk
½ cup sugar
¼ cup All-Purpose flour
1 teaspoon vanilla extract
1 teaspoon almond extract
2 ripe pears, peeled and diced
4 teaspoons sugar-free strawberry jam
How to Make It:
Heat rice milk in a microwaveable bowl for 5 minutes on high; mix the flour and sugar together, add a few large spoons full of the hot rice milk to the flour and sugar mixture until it becomes a smooth paste. Pour the mixture back into the hot rice milk and stir with a whip. Put the rice milk back into the microwave and cook on high for 1 minute and 30 seconds. Stir the mixture with the whip again, and cook for 1 more minute on high. Remove from the microwave and add the vanilla and almond extract. Pour into a shallow dish and refrigerate until chilled. This can be made up to 2 days ahead of time.
Place one-half of each pear in a glass, spoon ½ cup of the chilled almond pudding over the pears. Spoon 1 teaspoon of the strawberry jam over the top of the pudding and serve.
Analysis
4 servings per recipe, serving size 1 cup
calories 214.5, total fat 1.1 g, saturated fat 0.2 g, monounsaturated fat 1.5 g, polyunsaturated fat 0.4 g, omega-3 fat 2.3 g, cholesterol 0.0 mg, calcium 14.6 mg, sodium 46.8 mg, phosphorus 13.8 mg, potassium 55.2 mg, total carbohydrates 50 g, dietary fiber 1.4 g, sugar 33.4 g, protein 1g