Former Surgeon General Regina M. Benjamin to Chair National Kidney Foundation's Chronic Kidney Disease Prevention Initiative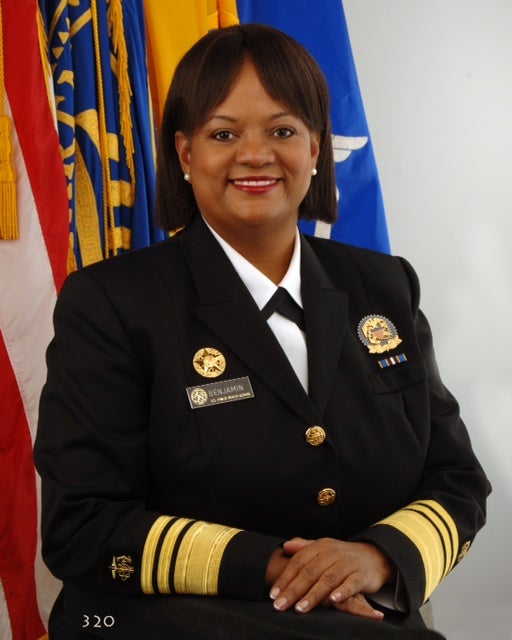 New York, NY – Regina M. Benjamin, MD, MBA, the 18th Surgeon General under the Obama administration, will chair the National Kidney Foundation's CKDInsight summit, the Foundation announced today.
The summit is slated for fall of 2016, and it's a component of NKF's new CKDIntercept program, a multi-year initiative that aims to elevate chronic kidney disease (CKD) diagnosis and management to the front lines of preventative health in the U.S. health system. In addition to Dr. Benjamin, the list of invited stakeholders includes, but is not limited to, medical professional groups, large healthcare systems, laboratory services, advocacy groups, technology industry experts, and government and retail insurers. They will meet to develop innovative approaches to overcoming the obstacles that inhibit timely diagnosis of kidney disease. The goal of the meeting is to generate a clear, cohesive strategy that will create a roadmap for change that will elevate the national perception of kidney disease and create a culture where early detection is a priority.
"CKDintercept is an initiative to improve early diagnosis and treatment of kidney disease," said Dr. Benjamin. "Prevention was the foundation of my work as Surgeon General and continues to be. I am honored to support the National Kidney Foundation's efforts to prevent chronic kidney disease." As Chair of the summit, Dr. Benjamin will help develop and comment on the overall concepts, goals, and participant lists of executive-level workgroups. Most importantly, she provides stimulus for various partners to join forces for greater efficiency and drive momentum toward raising the profile of kidney disease nationally.
"With CKDIntercept, the National Kidney Foundation is leading the conversation among healthcare professionals and individuals on the importance of kidney health, and is advocating for a culture of ever-improving preventative care," said Joseph Vassalotti, MD, Chief Medical Officer of NKF. "CKDIntercept is NKF's most ambitious project to date, one that promises to redefine healthcare and kidney disease management for decades to come. We are excited with the work that this group of healthcare, business and community leaders will champion."
Regina Benjamin, MD, MBA is the Founder and CEO of BayouClinic, Inc., as well as the NOLA.com/Times Picayune Endowed Chair of Public Health Sciences at Xavier University of Louisiana, and from 2009-2013, served as the United States 18th Surgeon General. She specializes in prevention policies and health promotion among individuals as well as large populations, especially concerning obesity, childhood obesity, and children's health. She has special interest in rural health care, health disparities among socio-economic groups, suicide, violence, and mental health. From her early days as the founder of a rural health clinic in Alabama to her leadership role in the worldwide advancement of preventive health, Dr. Regina Benjamin has forged a career that has been recognized by a broad spectrum of organizations and publications. In 1995, she was the first physician under the age of 40 and the first African-American woman to be elected to the American Medical Association Board of Trustees. Other past board memberships included the Robert Wood Johnson Foundation, Kaiser Family Foundation Commission on Medicaid and the Uninsured, Catholic Health Association, and Morehouse School of Medicine.
For over 65 years, the National Kidney Foundation has been at the forefront of kidney disease, whether it's advocating on Capitol Hill, supporting patients, or providing guidance in the doctor's office. CKDIntercept is the next step in moving early and timely CKD diagnosis further upstream to help patients and professionals prevent kidney disease from becoming kidney failure.
Quick Kidney Disease Facts:
1 in 3 American adults is at high risk for developing kidney disease today.
High blood pressure, diabetes, a family history of kidney failure, being over 60, or being from certain populations, such as African Americans or Hispanics, are major risk factors for developing kidney disease.
1 in 9 American adults has kidney disease—and most don't know it.
Early detection and treatment can slow or prevent the progression of kidney disease.
The National Kidney Foundation is the leading organization in the U.S. dedicated to the awareness, prevention, and treatment of kidney disease. For more information, visit www.kidney.org.