Kidney Disease Undiagnosed in Majority of Type 2 Diabetics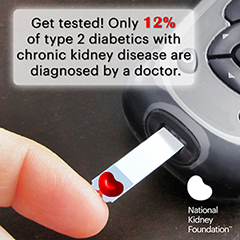 New York, NY (December 16, 2014) – Only 12 percent of type 2 diabetics with chronic kidney disease (CKD) are properly diagnosed as having CKD, according to a new study published in PLOS Medicine.
Diabetes is the leading cause of kidney failure in the United States, and more than 35 percent of diabetics over age 20 are estimated to have CKD.
"This research underscores the urgency of testing at-risk populations for kidney disease," said Joseph Vassalotti, MD, Chief Medical Officer of the National Kidney Foundation. "We are missing important opportunities to prevent kidney failure, dialysis and cardiovascular events in those most at risk."
The multi-site cross-sectional study, Awareness, Detection and Drug Therapy in Type 2 Diabetes Mellitus and Chronic Kidney Disease (ADD-CKD), conducted by the National Kidney Foundation (NKF), assessed a total of 9,339 patients with type 2 diabetes in 466 primary care practices across the nation. Of the 5,036 patients with CKD (as defined by urine protein excretion and eGFR), only 12.1% of patients were diagnosed by their primary care practitioner.
As a patient's CKD worsened, the proportion of patients correctly identified as having CKD increased (1.1% of Stage 1, 4.9% for Stage 2, 18.0% for Stage 3, 52.9% for Stage 4, and 58.8% for Stage 5). Clinicians were more successful in recognizing CKD in more advanced stages (e.g., 3 and 4), but still missed nearly half of patients with stage 4 CKD, while 209 (47%) of the 445 clinicians enrolled in the study did not identify any of their patients as having CKD. No differences were noted in clinicians' likelihood of identifying chronic kidney disease based on practice setting, number of years in practice or number of patients seen per week.
"This shows we need clearer and simpler messages for both primary care clinicians and patients regarding the importance of screening for chronic kidney disease in people with diabetes," said Chester Fox, MD, Professor of Family Medicine, University at Buffalo and ADD-CKD Steering Committee member. "We want to use these data to draw attention to the simple fact that recognizing kidney disease and performing simple steps may keep people off dialysis."
As a result of the findings, the National Kidney Foundation has announced two initiatives to tackle kidney disease in at-risk individuals. NKF will include ACR urine testing in its popular KEEP Healthy community screening program. An ACR (albumin/creatinine ratio) urine test uses a simple dipstick to identify protein in the urine -- often the first sign of kidney damage. NKF has also launched its Primary Care Initiative to help doctors adopt appropriate preventive measures into routine clinical practice. These include using specific diabetes drugs in those with reduced kidney function, avoiding non-steroidal anti-inflammatory drugs (NSAIDs) which can damage the kidneys in those at risk and using kidney-protective medications such as ACE inhibitors and Angiotensin Receptor Blockers (ARBs).
"We can increase the awareness, prevention and management of chronic kidney disease in people living with diabetes by identifying CKD in its earliest stages," Dr. Vassalotti said. "Only by working closely with primary care clinicians to understand their workflow, can we enhance care for people with CKD."
The ADD-CKD study is sponsored by Boehringer Ingelheim Pharmaceuticals Inc.
The National Kidney Foundation (NKF) is the leading organization in the U.S. dedicated to the awareness, prevention and treatment of kidney disease for hundreds of thousands of healthcare professionals, millions of patients and their families and tens of millions of Americans at risk. For more information on kidney health, visit kidney.org.