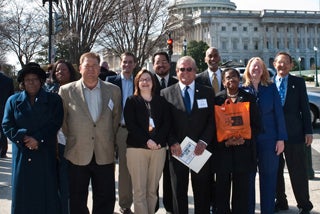 Washington, DC (March 1, 2015) – Kidney patients, transplant recipients and living kidney donors will take their voices to Washington, DC, on March 2-3 for the annual kidney patient summit hosted by the National Kidney Foundation (NKF).
March is National Kidney Month, and approximately 100 kidney patients, donors, and family members representing NKF, Alport Syndrome Foundation, American Association of Kidney Patients, IGA Nephropathy Foundation of America, NephCure Kidney International and PKD Foundation will meet with Members of Congress and their staff to share personal stories and advocate for policies that will fund research, protect kidney patients and raise awareness of kidney disease.
"NKF continues to advance policies that improve kidney care and better the lives of kidney patients, organ donors and transplant recipients," said Bruce Skyer, CEO, NKF. "The kidney patient summit is an example of our organization's commitment to work directly with patients, caregivers, and healthcare professionals to address the issues and challenges they face."
The summit will educate patients about the importance of advocacy and the efforts that lawmakers and government agencies have expended so far to improve kidney care. Featured speakers include Dr. Griffin Rodgers, Director of the National Institute of Diabetes and Digestive and Kidney Diseases, who will talk about NIH's research efforts.
An evening Congressional reception will be held on Tuesday, March 3, sponsored by the National Kidney Foundation, with various Members of Congress and their staffs in attendance.
"The Kidney Patient Summit is an opportunity for me to build awareness for the issues surrounding kidney disease and to give a voice to those who are affected. By spreading this message we can protect kidney patients and let others know they don't have to go through this journey alone," said Sarah Finlayson, a kidney transplant patient who will be attending the summit. "Through research, education, hard work and most importantly – community – we can ensure a better future for kidney patients and organ recipients."
The National Kidney Foundation is the leading organization in the U.S. dedicated to the awareness, prevention and treatment of kidney disease for hundreds of thousands of healthcare professionals, millions of patients and their families and tens of millions of Americans at risk. For more information on kidney disease and National Kidney Month activities for March 2015, visit the National Kidney Foundation at www.kidney.org
To learn more about the summit partners, please visit their websites:
Alport Syndrome Foundation
www.alportsyndrome.org
American Association of Kidney Patients
www.aakp.org
IGA Nephropathy Foundation of America
www.iganephropathy.org
NephCure Kidney International
www.nephcure.org
PKD Foundation
www.pkdcure.org