High School Reunion Leads to Renewed Friendships and New Kidney
Scott De Ment (left) and Dwight Erickson (right) hiking at Hawk Mountain in Pennsylvania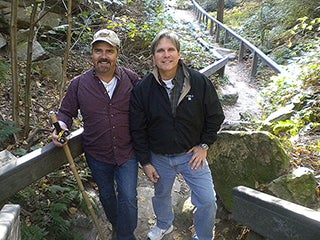 On April 11, Scott De Ment, 50, celebrated his first "transplantiversary." Remarkably, before he ended up on the surgical table, his path to a successful transplant began at the buffet table during his high school reunion. In between, social networking played a key role with the help of a Facebook-savvy friend. An acquaintance's brief encounter has not only led to a kidney transplant anniversary, but to renewed friendships and memories that will last a lifetime.
In his thirties, Scott was diagnosed with polycystic kidney disease, a condition that runs in his family. Polycystic kidney disease causes numerous cysts to grow in the kidneys. These cysts fill with fluid and if they become too big or multiple cysts grow, the kidneys can become damaged and ultimately fail. Together with his healthcare team, Scott was able to manage the disease for a number of years. By his 30th high school reunion however, it became clear that the cysts had taken over Scott's kidneys and he would need to begin dialysis treatment or receive a kidney transplant.
While standing in line for the reunion dinner buffet, Scott struck up a conversation with an old classmate named Dwight Erickson. Even though they weren't close friends in high school, they reminisced about their high school years and shared stories about their lives. During the course of their conversation, Scott's need for a kidney transplant came up. Dwight, a religious man, told Scott that he would pray for him. Scott appreciated his kind words and spent the rest of the night catching up with old friends, including a classmate named Regina Bellina. After learning about Scott's plight, Regina suggested using their high school alumni Facebook page to help him find a potential kidney donor. He was initially apprehensive about the idea, but ultimately realized that he had nothing to lose and only a kidney to gain.
Two months later, on December 7, 2011, Scott and his family received a life-changing phone call. It was Scott's doctors who stated that they had a kidney match. Unbeknownst to them, someone had come forward to be tested as a living donor. The doctors shared that the donor wanted to personally tell Scott the good news and would be calling him later that evening. As they waited anxiously for the phone to ring, the De Ments felt both curious and overjoyed.
Sure enough, Dwight saw the Facebook post and remembered the conversation he had with Scott at the reunion. He couldn't shake the feeling that he needed to do something more than just pray, so he volunteered his spare kidney. Fortunately for Scott, he was a match.
Barbara, Scott's wife, still gets emotional talking about the kidney transplant and their donor miracle. Barbara says, "It was really scary to think about my husband's fate while watching his kidney function decline. Dwight is not only an incredible person, but he's our organ donor hero."
In honor of National Donate Life Month this April, Barbara and Scott's teenage son, Ryan, reached out to the National Kidney Foundation to share his family's story. He wanted to recognize Dwight and highlight that sometimes miracles happen when you least expect them to, encouraging all those waiting for a kidney transplant not to lose hope.
---