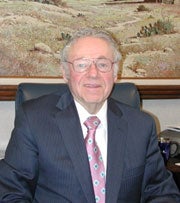 Dallas, TX (March 19, 2015) — Michael Emmett, MD, MACP, will be honored with the Dr. Shaul Massry Distinguished Lecture Award at the National Kidney Foundation's Spring Clinical Meetings in Dallas later this month. This lectureship was established to honor Dr. Shaul G. Massry for his scientific achievements and contributions to the kidney healthcare community and the National Kidney Foundation.
Dr. Emmett is being honored for his dedication to medical education and his research in the areas of acid-base and electrolyte disorders and their role in chronic kidney disease. When the kidneys fail, they are no longer able to effectively filter waste from the blood, regulate the body's fluid levels, properly regulate acid-base status or keep the body's minerals in balance (sodium, potassium, phosphorus, calcium, etc.).
"Dr. Massry has been a leading innovator, investigator and educator since the mid-1960s, and it is a very special honor for me to present a lecture which honors him and for me to be associated with one of nephrology's giant contributors" said Dr. Emmett.
On March 26, Dr. Emmett will be presenting on "The Anion Gap – An Enduring Concept: 1923 to 2015". The anion gap is a simple arithmetic calculation that physicians use to compare the measurements of sodium, potassium, chloride and bicarbonate in body fluids in order to diagnose and treat potentially life-threatening acid-base and mineral imbalances that often develop in people with kidney disease.
Dr. Emmett has been a nephrologist for almost 40 years and currently serves Chairman of Internal Medicine and the Internal Medicine Training Program Director at Baylor University Medical Center (BUMC) in Dallas, TX. He is also a Professor of Internal Medicine at Texas A&M Health Science Center and a Clinical Professor of Medicine at University of Texas Southwestern Medical School (UTSW). Dr. Emmett received his Bachelor of Science (B.S.), magna cum laude, from Penn State University and his Doctor of Medicine (M.D.) from Temple University Medical School where he was ranked first in his graduating class and was the local president of the Alpha Omega Alpha Honor Society.