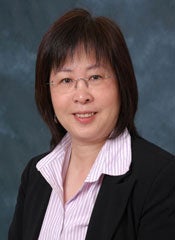 Dallas, TX (March 19, 2015) — Maria Chan, PhD, RD, MNutriDiet, BSc (Hons), will be honored with the National Kidney Foundation's Joel D. Kopple Award for her contributions to the field of renal nutrition at the Spring Clinical Meetings in Dallas this month.
"I am deeply honored and humbled to receive this prestigious award. Personally, it means a lot because my drive for excellence stems from my desire to make a difference in the lives of people with kidney disease. Professionally, it also gives affirmation and credibility to the vital role nutrition plays in improving the outcomes of nephrology patients," said Dr. Chan.
Dr. Chan is the Lead Renal Dietitian at the St. George Hospital, Sydney, Honorary Senior Fellow, School of Medicine, University of Wollongong and Conjoint Associate Lecturer, University of New South Wales, Australia. She is committed to improving the nutritional care and outcomes of patients with chronic kidney disease (CKD) globally, as well as training renal dietitians.
Dr. Chan's current research interests examine nutritional factors and clinical outcomes in people with end stage CKD. In particular, she is interested in the effects of pre-dialysis nutritional care on clinical outcomes of patients with CKD, stages 4-5. This includes patients who ultimately choose to start dialysis and those who prefer not to seek traditional treatment.
"There is a real need for timely access to formal nutritional care to prevent and manage nutritional abnormalities in kidney patients long before dialysis is required. My hope is that one day all renal patients will be able to work with renal dietitians to receive care from early stages of CKD," said Dr. Chan.
Dr. Chan has also been instrumental in developing four sets of evidence-based renal nutrition practice guidelines covering all stages of CKD, including dialysis and transplantation. "Guidelines create best practices and foster clinical decision-making rooted in research evidence, clinical expertise and patient values," continued Dr. Chan.
She has served on the council of the International Society of Renal Nutrition & Metabolism (ISRNM), chairing the dietitians division from 2004 to 2008, and is a founding member of the Renal Nutrition Committee (RNC) of the International Federation of Kidney Foundations (IFKF). In Australia, Dr. Chan serves on many committees in the New South Wales Ministry of Health and the Dietitians Association of Australia (DAA) where she works on policy setting and strategic planning of renal services, looking at models of care, workforce, education and training. She has been recognized on multiple occasions for this work and has been regularly invited to speak in national and international congresses.
Dr. Chan has contributed to over thirty peer-reviewed publications and four book chapters. Her teaching and research collaborations extend to institutes abroad, including Hong Kong, Singapore, Malaysia, China and Sweden.