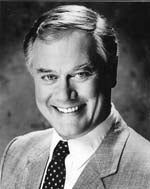 Columbus, OH (August 5, 1998) - Larry Hagman, who most recently appeared opposite John Travolta in Mike Nichols' "Primary Colors" will present medals to some very special athletes with lots of heart and kidney and liver and lung at the fifth biennial U.S. Transplant Games presented by the National Kidney Foundation. Hagman, himself a liver transplant recipient, is national spokesperson for the 1998 U.S. Transplant Games, an Olympic-style event for recipients of life-saving organ transplants, to be held August 5-8 on the campus of Ohio State University. This is Hagman's second time serving as spokesperson for the National Kidney Foundation U.S. Transplant Games.
With more than 1,500 transplant athletes and 500 families of organ donors from across the country participating, the 1998 U.S. Transplant Games promise to be the largest-ever gathering of transplant recipients and donor families. Transplant athletes of all ages will compete in 13 different sports including bicycling, swimming, tennis, golf, racquetball and track and field events.
"The U.S. Transplant Games are a true celebration of a second chance at life for transplant recipients from across the country. Those who participate dramatically demonstrate that organ recipients return to very active lives," says Hagman.
"All of us recipients are living proof that transplantation works. The Games help showcase the success rate of organ transplants and call attention to the great need for more organ donation in this country. I hope my participation encourages more people to sign organ donor cards so that others may be given the same gift of life that I have been lucky enough to receive," continues Hagman.
Since his transplant, Hagman truly epitomizes the success of transplantation -- he starred in two "Dallas" movies for CBS recently as well as the CBS series "Orleans" and two motion pictures, Oliver Stone's "Nixon" and "Primary Colors." At the Games, Hagman will participate in the Opening Ceremonies, the U.S. Postal Service's dedication of the new organ and tissue donation postage stamp, the torch lighting and medals presentations.
The National Kidney Foundation 1998 U.S. Transplant Games are sponsored by Novartis Pharmaceuticals Corporation. Associate sponsors are The Coca-Cola Company, United Resource Networks and The Ohio State University Medical Center.
More than 56,000 Americans are currently awaiting life-saving organ transplants. Nine to 10 people die each day while waiting. The National Kidney Foundation is committed to ensuring that every American who needs a transplant receives one. For more information on the U.S. Transplant Games or a free donor card call the Foundation at (800)622-9010.