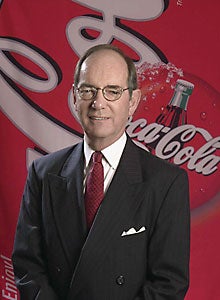 New York, NY (November 8, 2004) - Chuck Fruit of Atlanta was voted Chair-Elect of the National Kidney Foundation, Inc. (NKF).
Mr. Fruit, Senior Vice President and Chief Marketing Officer for The Coca-Cola Company, is a longtime supporter of the NKF on both the national and local levels. In 1986, Fruit received a kidney transplant after living with kidney disease since childhood. As Chief Marketing Officer of The Coca-Cola Company, Mr. Fruit is responsible for overseeing all aspects of the company's marketing and brand building, as well as providing leadership and guidance to Coca-Cola marketing professionals. Prior to joining The Coca-Cola Company, Mr. Fruit spent 15 years as an Anheuser Busch executive in St. Louis, where he was a volunteer for the National Kidney Foundation of Eastern Missouri and Metro East.
The National Kidney Foundation is dedicated to preventing kidney and urinary tract diseases, improving the health and well being of individuals and families affected by these diseases, and increasing the availability of all organs for transplantation. For more information, contact the National Kidney Foundation at (800) 622-9010.