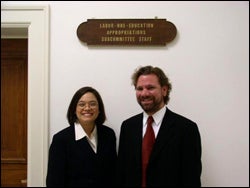 New York, NY (April 14, 2005) - Transplant surgeon Dr. Ginny Bumgardner and pediatric resident Dr. Trent Tipple presented testimony before the U.S. House of Representatives Appropriations Subcommittee on Labor, Health and Human Services, Education, and Related Agencies today to request $25 million in funding for the Organ Donation and Recovery Improvement Act of 2004.
Bumgardner, an Associate Professor of Surgery at the Ohio State University and Tipple, a neonatology fellow who is also a kidney transplant recipient and member of the National Kidney Foundation's TransAction Council executive committee, testified on behalf of a coalition of 12 organizations representing the Transplant Roundtable.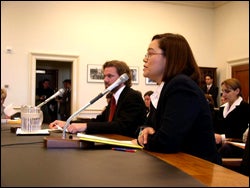 The testimony focused on the ways this legislation, enacted in 2004 but not yet funded, could expand the pool of donor organs available for transplant in the U.S. Funds would be allocated for the reimbursement of travel expenses for low income living donors, for hospital-based "organ coordinators," demonstration projects to increaseorgan donation and for studies by the Agency for Healthcare Research and Quality that would develop new methods for organ recovery, preservation and transportation.
The Transplant Roundtable includes the American Association for the Study of Liver Diseases, the American Association of Kidney Patients, the American Association of Tissue Banks, the American Liver Foundation, the American Society of Pediatric Nephrology, the American Society of Transplantation, the Association of Organ Procurement Organizations, the Eye Bank Association of America, the National Kidney Foundation, the North American Transplant Coordinators Organization and the United Network for Organ Sharing.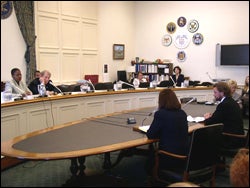 Click here to read the testimony.
Click here to read Troy Zimmerman's letter to the U.S. House of Representatives