Washington, DC (May 5, 2005) - For the 20 million Americans with chronic kidney disease, patient advocacy can make a big difference in quality of life and help improve outcomes, according to the National Kidney Foundation. Empowering patients to speak out on their own behalf is the focus of "People Like Us," the Foundation's new patient advocacy initiative launched in May in Washington DC.
To kick off "People Like Us," 100 kidney patients, family members, transplant recipients, living organ donors and donor families from around the U.S. spent three days learning how to become their own best advocates. They participated in advocacy training workshops, and were educated on public policy issues to prepare them to become proactive advocates and effective spokespeople.
"This program is very important for raising people's awareness about kidney disease and educating them about how they can help make a difference," said Karen Divine, 41, a patient advocate and kidney transplant patient. "A lot more people would think about organ donation if they only recognized that there is a need."
The participants also mingled with members of the Congressional Kidney Caucus at a special reception on Capitol Hill, and some participants met with their Congressional representatives. Participants reached a consensus on the NKF's recommendation to formally thank the federal government for providing dialysis and other services to kidney disease patients for more than 30 years.
"People Like Us" is an ongoing program that aims to strengthen and unify the voices of the 20 million Americans with kidney disease so they can be heard in Congress, government agencies and state legislatures across the U.S., according to the National Kidney Foundation.
"The People Like Us movement is educating patients so they can make informed healthcare decisions, training them to actively participate in the public policy process and encouraging lawmakers to seek patient's input on legislative initiatives that would affect their care, such as the funding of kidney disease research and expanded Medicare coverage for post-transplant medication," says John Davis, CEO of the National Kidney Foundation.
"I applaud the National Kidney Foundation's new initiative to build awareness and empower people," Rep. Jim McDermott (D-WA) said. "In the Congress, I co-founded the Congressional Kidney Caucus as a platform to help build awareness and it has worked. This new effort will too, I believe."
According to People Like Us participant Dave Jones, 64, who enjoyed a rewarding career as director of marketing for a chemical company while spending the last 32 years on kidney dialysis, the patient who takes the time to get educated about his disease is one who will be able to make choices about his own treatment and ultimately maintain control over his life. "My family and I put the disease in its place and just got on with life," says Dave.
The National Kidney Foundation is dedicated to preventing and treating kidney and urinary tract diseases, improving the health and well being of patients and families affected by these diseases and increasing the availability of all organs for transplantation. To learn more about "People Like Us," contact the National Kidney Foundation at (800)622-9010 or peoplelikeus@kidney.org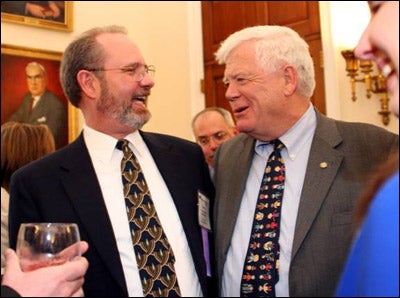 Rep. Jim McDermott (D-7-WA) has a moment of lighthearted banter with Duane Sunwold, National Kidney Foundation
advocate, during the launch of the Foundation's patient advocacy program People Like Us.
(Lauren Burke/National Kidney Foundation)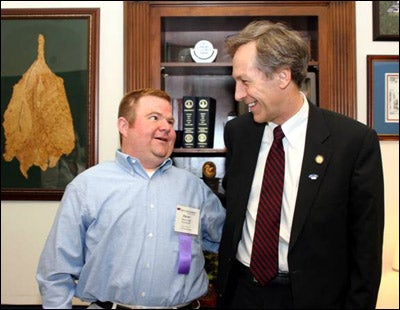 National Kidney Foundation advocate Steven May of Concord, Va., greets Rep.
Virgil Goode (R-VA-5) as part of the Foundation's patient advocacy program People Like Us.
(Lauren Burke/National Kidney Foundation)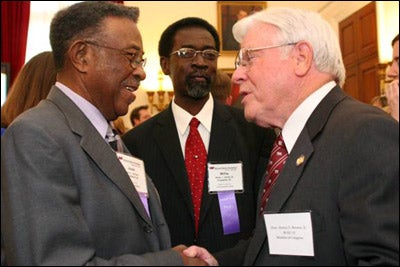 Rep. Henry Brown (R-1-SC), right, chats with constituents Jesse Johnson, left, and Willie Smith, right,
at the National Kidney Foundation/Congressional Kidney Caucus reception held during the launch of People Like Us.
(Lauren Burke/National Kidney Foundation)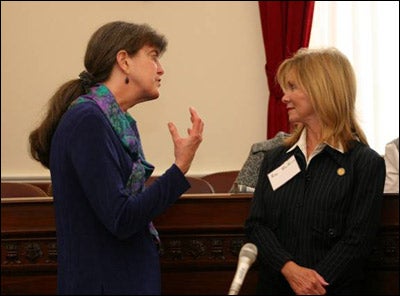 Patient advocate Jill McMaster engages Rep. Marsha Blackburn (R-7-TN) in a dialogue about chronic kidney disease.
The exchange took place during a reception as part of NKF's patient empowerment program, People Like Us.
(Lauren Burke/National Kidney Foundation)