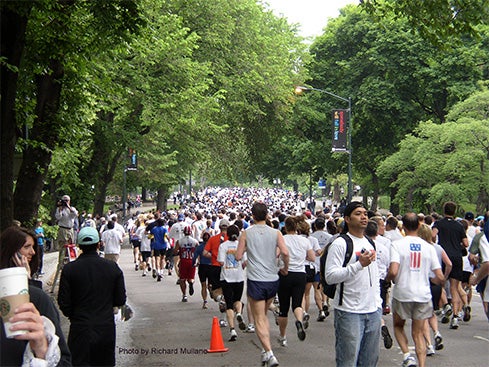 New York, NY (May 22, 2005) - On a brisk Sunday morning more than 5,500 runners, their families and many supporters of organ donation gathered in Central Park for the Healthy Kidney 10K benefiting the National Kidney Foundation.
The Health Kidney 10K, presented by New York Road Runners, highlighted the importance of early detection for kidney disease and the need for organ donation.
"I would like to thank the sponsors, especially the Embassy of the United Arab Emirates, GE, Lockheed Martin, and the runners and their families for supporting the Healthy Kidney 10K run," said John Davis, CEO of the National Kidney Foundation. "Through your dedication and participation, you helped us reach thousands of people with a message of hope."
Representing the National Kidney Foundation at the race was Rich Mullane, a donor father, who addressed the crowd, highlighting his personal organ donation experience.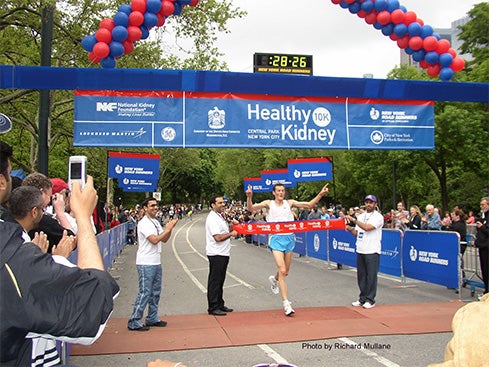 "My son Rick at age 19 was a donor five years ago when he died suddenly from a gunshot wound, but he lives on today as an organ and tissue donor in 84 people in 24 states," said Mullane. "Through the miracle of organ and tissue donation, there are many people here, racing today because they had a kidney transplant and are alive because of it."
Twenty million Americans - or 1 in 9 adults - have chronic kidney disease, and many don't know it. Nearly 90,000 Americans are waiting for a life-saving transplant, and 17 people die each day while waiting.
"The key to beating this health issue is early detection. Kidney disease can be prevented, slowed down, or even reversed if caught early enough," said Mullane. "That's why we are here today, to increase awareness. So if you are at risk, get screened."
The National Kidney Foundation is a major voluntary health organization dedicated to preventing kidney and urinary tract diseases, improving the health and well-being of individuals and families affected by these diseases, and increasing the availability of all organs for transplantation.
For race results click here.