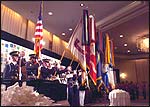 New York, NY (Feburary 1, 2007) - The 2007 National Donor Recognition Ceremony and Workshop (NDRCW), the 10 th Federal Government ceremony to honor the Nation's living and deceased donors, will take place in Washington, DC on July 20-22, 2007.
This event is sponsored by the Division of Transplantation, Health Resources and Services Administration, U.S. Department of Health and Human Services with the assistance of the National Kidney Foundation's (NKF) National Donor Family Council and many other transplant associations and organizations.
Saturday's program includes a plenary session, workshops and sharing sessions for living organ and marrow donors, organ and tissue donor families, and donation professionals. The Sunday recognition ceremony will feature special presentations and tributes in honor of the generosity of America's heroes – living organ and marrow donors and those who donated organs and/or tissues after death.
All the Nation's living donors, donor families and friends are invited to attend the NDRCW. While there is no cost for registration or for attending the Saturday workshops or Sunday's ceremony, anyone planning to attend must register in advance in order that we may provide adequate meeting space and materials. Individuals or sponsoring organizations are responsible for costs such as housing, travel, meals and incidentals.
Registration materials will be mailed out a few months prior to the event. For more information, please contact the Division of Transplantation at 301.443.7577, visit www.organdonor.gov or call the National Donor Family Council at 800-622-9010 or email us at nkfcares@kidney.org.
We hope to see you there!