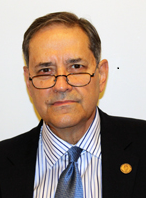 The National Kidney Foundation congratulates Francis Delmonico, MD FACS, on being appointed to the Pontifical Academy of Sciences (PAS) by Pope Francis.
The Pontifical Academy of Sciences is the academy of the Vatican that aims to promote the progress of the mathematical, physical, and natural sciences and the study of related epistemological problems. Dr. Delmonico is the only individual to receive this distinguished, lifetime appointment to the PAS in 2016.
Dr. Delmonico is known as an expert in the field of transplantation. He is a former National Kidney Foundation board member and has been awarded the National Kidney Foundation's David M. Hume Award -- NKF's highest honor given to a distinguished scientist-clinician in the field of kidney and urologic diseases.
Dr. Delmonico is Professor of Surgery Harvard Medical School at the Massachusetts General Hospital, where he is Emeritus Director of Renal Transplantation. He has been a member of the MGH Department of Surgery for 35 years. He is the Past-President of The Transplantation Society (2012-2014) and appointed as an Advisor to the World Health Organization in matters of organ donation and transplantation since 2006. Dr. Delmonico is the Medical Director of the New England Organ Bank since 1995.