Prediabetes a Precursor to Kidney Disease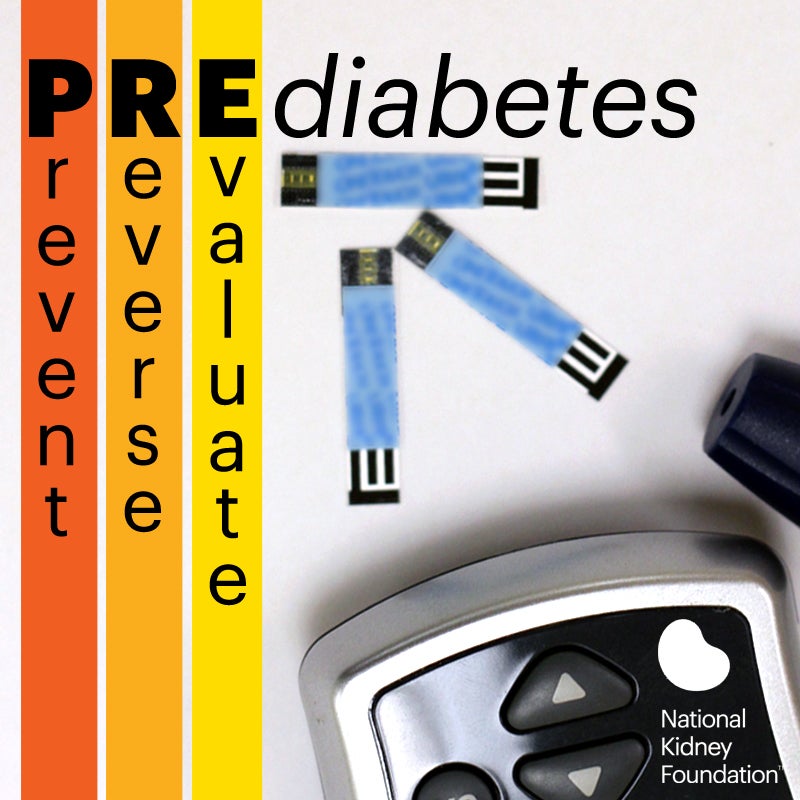 New York, NY – Diabetic kidney damage may start much earlier than previously thought, according to a new study published in the National Kidney Foundation's American Journal of Kidney Diseases.
Researchers discovered that fasting glucose (FG) and HbA1c levels consistent with prediabetes are independent risk factors for hyperfiltration in the kidneys and the presence of albumin in the urine – both indicators of kidney damage. Hyperfiltration is an abnormality in the kidneys that, over time, can lead to progressive kidney damage and kidney failure.
"Our research shows that the pathological process of kidney injury caused by elevated blood glucose levels starts in prediabetes, well before the onset of diabetes," said Dr. Toralf Melsom, PhD, MD, an Associate Professor and Senior Consultant in the Department of Nephrology at University Hospital of North Norway. "To our knowledge, no prior study in the general population has found this longitudinal association between prediabetes and higher mGFR and hyperfiltration."
Globally, diabetes is the leading cause of kidney disease and kidney failure. Prediabetes is approximately twice as common as diabetes, affecting 20-35% of adults, according to the study's authors. About 45-50% of prediabetes patients advance to diabetes within 10 years.
The study indicates that hyperfiltration in prediabetes represents a maladaptive response to metabolic changes, and that the process of kidney damage is likely to start early in the course of chronic hyperglycemia.
"Prediabetes may be a target for early intervention to prevent chronic kidney disease (CKD) caused by hyperglycemia," Dr. Melsom said. "If a patient has borderline elevated glucose levels found by their primary physician they should start lifestyle changes with respect to diet and physical activity to preventing diseases like diabetes and kidney disease."
The study involved 1,324 patients between the ages of 50-62. Participants were followed for a median observation time of 5.6 years. Prediabetes was defined as fasting glucose (FG) 110-125 mg/dL (6.1-6.9 mmol/l) and/or HbA1c 6.0-6.4% according to the classification of "high risk state of developing diabetes" by the International Expert Committee of 2009, or as FG 100-125 mg/dL (5.6-6.9 mmol/l) and/or HbA1c 5.7-6.4% according to the American Diabetes Association criteria.
A total of 595 participants had prediabetes at baseline. Those with prediabetes had a higher measured glomerular filtration rate (mGFR) at follow-up after adjusting for lifestyle factors and medications. Baseline fasting glucose also remained a significant predictor of high albumin in the urine of in these participants, indicating early kidney damage.
"It is estimated that more than 470 million people will have prediabetes by 2030," said Jeffrey Berns, MD, President of the National Kidney Foundation. "Prediabetes is very common and it is strongly associated with changes in kidney function and the presence of albuminuria, which are risk factors for development of serious kidney and cardiovascular disease. However, studies like this underscore how important it is to identify those with prediabetes so lifestyle changes and physician management can potentially stem declines in kidney function."
Previous studies have tried to find a link between prediabetes and kidney damage, however the results of those studies have were often inconsistent. The authors attribute this inconsistency to the use of an equation to estimate of GFR, whereas this study was the first to utilize the more rigorous and precise method of measuring of GFR.
"This study makes a strong case for greater use of measured GFR, rather than estimated GFR, in clinical studies, particularly in patients with relatively well-preserved kidney function," Dr. Berns said.