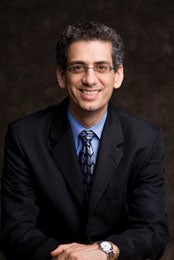 New York, NY (March 19, 2015) — Josef Coresh, MD, PhD, MHS, will be awarded the National Kidney Foundation's highest honor at the Spring Clinical Meetings in Dallas this month.
Dr. Coresh will be presented with the David Hume Award, which is reserved for a distinguished scientist-clinician in the field of kidney and urologic diseases who exemplifies the high ideals of scholarship and humanism in an outstanding manner.
"I feel privileged to be receiving the David Hume award because our research is highly collaborative. It has been a pleasure to be able to recruit, work with and inspire talented scientists who have contributed to advancing the field of kidney disease epidemiology," Dr. Coresh said.
Dr. Coresh is an international expert with over 20 years of work in the field. He has dedicated his career to kidney and cardiovascular epidemiology, and has significantly advanced the use of biomarkers in detecting kidney disease and estimating the risk of progression and other clinical outcomes. As part of the CKD Epidemiology Consortium, Dr. Coresh was instrumental in publishing the CKD-EPI equation for estimating glomerular filtration rate (eGFR), which has now become the recommended and widely-used way to determine how well the kidneys are filtering wastes from the blood.
"In some respects, when I entered the field in the 1990s CKD epidemiology was relatively undeveloped, lagging hypertension and cardiovascular epidemiology by three decades," Coresh said. "With the help of wonderful colleagues, I am delighted to have helped move the field forward. There is still much work to be done, but we now have standard definitions and staging, global reporting of estimated kidney function and many useful clinical practice guidelines."
Dr. Coresh served as Vice-Chair of NKF's ground-breaking 2002 Kidney Disease Outcomes Quality Initiative (KDOQI) clinical practice guideline that defined and staged kidney disease for the first time, forever changing the landscape of nephrology. He was a co-founder and Principal Investigator of the CKD Prognosis Consortium (CKD-PC) which is the largest research consortium dedicated to furthering our knowledge of patient outcomes at all stages of CKD, including over 3 million individuals from 40 different countries.
"In the coming years, I look forward to the continued growth of the CKD Prognosis Consortium. The collaborators are an amazing group and I think we have an excellent model for rapidly conducting high impact research to improve patients' lives," said Dr. Coresh.
Dr. Coresh has published over 400 papers which are among the most highly cited in the biomedical field. He currently serves as the George W. Comstock professor in the Epidemiology department at The Johns Hopkins Bloomberg School of Public Health, and has joint appointments in the departments of Medicine and Biostatistics.