CNSW Membership Update
CRN Membership News

Maureen O'Grady-Hamre, LCSW, NSW-C, BCD, FNKF
Happy Social Work Month to all nephrology social workers! As we reflect upon how we make an impact on the lives of those we serve, I want to thank you for your continued support of the National Kidney Foundation and of the Council of Nephrology Social Workers. Through CNSW membership, we maintain a strong professional presence in the world of nephrology. We continue to champion those with kidney disease and to support our patients' pursuit of optimal lifestyles with renal replacement therapies. Please continue to encourage all of your colleagues to join CNSW and to take advantage of the many benefits of membership, such as:
Free online CE through NKF's Professional Education Resource Center
A subscription to the Journal of Nephrology Social Work
Discount registration to the NKF Spring Clinical Meetings, NKF's premier education event
Subscription to RenaLink, NKF's interdisciplinary renal health information and industry news e-magazine
Eligibility to apply for the Nephrology Social Work – Certified (NSW-C) Program
Eligibility to apply for travel grants, research grants, and the Fellowship of the National Kidney Foundation (FNKF)
Receive access to the CNSW Membership Listserv, where everyone can exchange information, ideas, resources, and participate in such events as Gary Petingola's "CNSW Midweek Meditation," and "Thoughts for the Month" by Lois Kelley. CNSW offers four separate listservs for members: General, Pediatrics, Transplant and Chapter Chairs
Enjoy discounts on the NKF Store
We continue to reach out to renal providers to educate them about the benefits of CNSW membership for all nephrology and transplant social workers. Please let me know how I can better serve your needs and answer your questions about National CNSW Membership. Please feel free to call me at (973) 890-2394 or email me at mogradyhamre@americanrenal.com. Thank you.
---
Don't Miss Out on all the Great Benefits of NKF-CRN Membership!
Did you know about the many FREE Online CE offerings available to NKF-CRN Members? NKF-CRN membership allows you access to free online CE courses through NKF's Professional Education Resources Center (PERC) at education.kidney.org.
Registration is now open for the 2019 NKF Spring Clinical Meetings! Join is in Boston at the Hynes Convention Center, May 8 – 12, 2019, to get the latest in clinical care of patients. Don't forget! Members receive discounts to attend. Learn more here.
---
CKD Dietitians – Call to Action
The Council on Renal Nutrition has created a database of dietitians across the country who are currently seeing patients who have pre-dialysis chronic kidney disease. The NKF recognizes the importance of medical nutrition therapy in the early stages of kidney disease and would like to provide a place for patients and practitioners to easily find qualified practitioners.
If you are interested in having your contact information shared on the NKF website, please forward the following information to your CRN Region Representative :
Name (including credentials)
Location (city, state)
Practice name (if applicable)
Contact information (how can patients find you? Phone #, email, website)
Type of service provided (individual counseling, group classes, telehealth, etc.)
Payment options (Insurance, Medicare, Cash, etc.)
Don't forget to check out the database at www.kidney.org/ckdrd
---
CRN Award Nominations
Do you also know an outstanding nephrology dietitian that makes a significant impact in the community and with chronic kidney disease patients? Please take a moment and recognize her/him. This dietitian in mind could be a perfect candidate for the Regional Recognized Renal Dietitian (RRRD) Award. Awards for 2020 will open during the SCM in Boston.
Dietitians deserve to be recognized for the tremendous work done, which improves quality of life and makes a difference in the lives of many. You can start by sending a recommendation letter to your Region Representative. A list of the Region Reps can be found here. Your Region Rep can reach out to the nominee, notifying them of nomination and explain what to do next. The Recognized Regional Renal Dietitian (RRRD) Award honors a dietitian who has demonstrated exceptional abilities within their community or region. These dietitians excel in leadership, creativity and public involvement, and are trailblazers in renal nutrition. The RRRD Award will be offered to a dietitian in all five regions and must be a CRN member. Each nominee will need to gather the information needed for their application: two (2) recommendation letters, a current CV, and a brief statement about their contributions to the renal nutrition field and the purpose of these efforts (400 words or less). Once all the application information is together, nominees can go here to complete and submit their application. There are several other awards for our deserving dietitians. To learn more about all the awards, please check out our CRN Awards Process. We all know exceptional dietitians. I encourage you to honor them with professional recognition.
Congratulations to the following CRN Award Recipients for 2019!
You can read more about these recipients on the SCM Website.
Kopple Award – Katy Wilkins, MS, RDN, FNKF
Susan C Knapp Award – Marie Becker, MS, RD, LDN
Outstanding Service Award – Janelle Gonyea, RDN, LD
RRD – Haewook Han, PhD, RD, CSR, LDN, FNKF
RRRD Region 1 – Liz Kirk, RDN, CDN
RRRD Region 2 – Carolyn Feibig, MS, RD, LD
RRRD Region 3 – Amie Ritchie, RD, LD
RRRD Region 4 – Matilde Ladnier, RD, LD
RRRD Region 5 – Erin Hintz Cabaluna, MS, RD, CSR
---
Congratulations to Brittany Sparks, RDN, CSR, for her winning submission for Sweet and Sour Tofu & Veggies!
Sweet and Sour Tofu & Veggies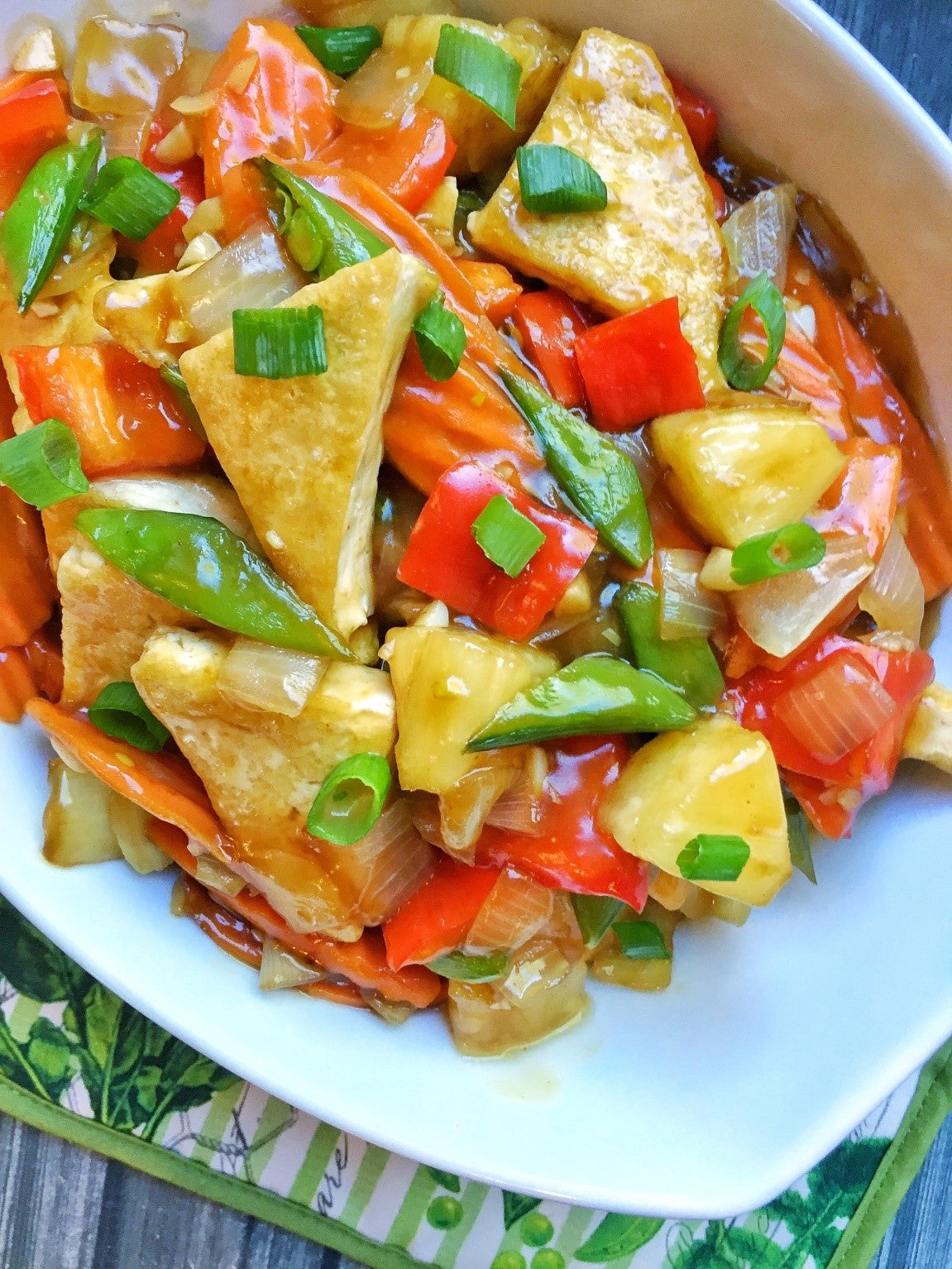 Author: Brittany Sparks, RDN, CSR
Makes: 7 (1 cup) Servings
Dialysis/CKD/Diabetes Friendly Entree

Prep time: 15 min
Cook time: 20 min
Total time: 35 min
Ingredients
1 Cup White Rice, Cooked According to Package Directions
14 oz Firm or Extra Firm Tofu (397 g)
2 Tbsp Olive Oil
1 Cup Snow Peas, Cut in 1-inch pieces
1 Red Bell Pepper, Cut in 1-inch pieces (~1 cup)
1 Medium Onion, Cut in 1-inch pieces (~1 cup)
1 Cup Sliced Carrots
3 Garlic Cloves, Minced
Sauce
1 (8oz) Can Pineapple Chunks in Juice
1/3 Cup Apple Cider Vinegar
3 Tbsp Cornstarch
1/4 Cup Granulated Sugar
2 Tsp Low Sodium Soy Sauce
1 Cup Water
1 Tsp Salt
1/4 Tsp Ground Ginger
Pinch of Ground Cayenne Pepper
Garnish (Optional)
Directions
Cook rice according to package directions.
Remove tofu from package and drain excess liquid. Using a dish cloth or paper towels press as much liquid from tofu. Cut the tofu into 3 (1/4th inch) sheets. Cut each sheet diagonally on both sides to form 4 triangles. Now cut each triangle diagonally to form 8 small triangles. Pat with dish cloth once more to remove excess liquid.
In a large skillet heat olive oil over medium high heat. Add the tofu and cook for 3-4 minutes per side until golden brown. Remove from pan and set aside.
Prepare the sauce by separating the pineapple chunks from the juice. In a small saucepan add the pineapple juice and the rest of the ingredients for the sauce. Whisk together to combine. Bring mixture to a boil over medium heat then reduce heat to low. Allow to cook, whisking occasionally for 5 minutes or until the sauce thickens. Remove from heat and set aside.
In the large skillet used to cook the tofu, add the snow peas, bell pepper, onion and carrots and sauté over medium-high heat for 7-8 minutes. Now add the garlic and cook for about 30 seconds. Add in the pineapple chunks and tofu and cook for an additional minute. Add the sauce to the pan and toss to combine.
Serve warm with 1/2 cup cooked rice. Garnish with chopped green onions.
Nutrition Facts
Serving Size (1 Cup Sweet and Sour Tofu & Veggies and 1/2 Cup Rice):
Calories 253, Total Fat 4.3 g, Monounsaturated Fat 2.1 g, Saturated Fat 0.7 g, Polyunsaturated Fat 1.1 g, Sodium 395 mg, Total Carbohydrate 45 g, Dietary Fiber 2.4 g, Protein 8.3 g, Potassium 346 mg, Phosphorous 129 mg
*All ingredients were weighed and measured and nutrient analysis was calculated using the USDA Nutrient Database: https://ndb.nal.usda.gov/ndb/search