There are so many great ways for you to show your support for your friends, family with kidney disease and their caretakers! One of the best ways is to sign up for a Kidney Walk in your area! Ask your company about matching gifts or to sponsor a Walk! To sign up visit www.kidneywalk.org.
13th Annual Renal Professional Forum
As the leading organization dedicated to the awareness, prevention and treatment of kidney disease, the National Kidney Foundation of Florida annually partners with the Florida Chapters of the Council of Nephrology Social Workers, the Florida Council on Renal Nutrition and the American Nephrology Nurses Association to present the Renal Professional Forum.This year, we will present the 13th Annual RPF, Thursday, February 4th & Friday, February 5th, 2016 at The Doubletree by Hilton Orlando at SeaWorld.. This program is designed specifically for Renal Social Workers, Dietitians, Nurses and Technicians and has been developed by a committee of your peers.
This year, our goal is to Rethink & Refocus as We Move into the Future. The content of the sessions presented will focus on the means of our future in treatment options and caregiving of patients coping with Renal Disease.
For more information or to register, visit www.nkfrpf.org.
A Kidney-Friendly Summer BBQ from the Kidney Kitchen!
Spice up your summer! Make your own delicious meals this summer with our helpful Summer BBQ recipes! This and more recipes and helpful cooking tips are available in our Kidney Kitchen.
St. Vincent's HealthCare prides itself on delivering compassionate, Mission-driven care. "What's that," you might ask?
At St. Vincent's it's our Mission to go above and beyond for patients, paying special attention to those who are poor and vulnerable.
St. Vincent's associates sincerely consider your care their calling. This is not just a job for the doctors, nurses and other medical staff.. it's bigger than that.
Doing your job is expected no matter where you work, but at St. Vincent's, associates are encouraged to go the extra mile because it's the heart of the organization.
Blain Claypool, St. Vincent's Clay County President was asked to chair the Jacksonville Kidney Walk in May because of his heart for kidney patients and his strides for the betterment of his community.
He stated at the Kidney Walk, "It was a pleasure to join as the 2014 Jacksonville Kidney Walk Corporate Chair. St. Vincent's has over a century long history of caring for those in the Jacksonville community. On behalf of the entire team at St. Vincent's, thank you for all of your hard work to raise awareness, educate and advocate for individuals with Kidney Disease."
We, at the National Kidney Foundation of Florida thank St Vincent's for their support in Jacksonville and statewide!
Meet Ruth Browne - a NKFF Volunteer for many years. Ruth helps with the processing of Direct Aid each month and frequently attends Orlando area fundraisers and programs! We at NKFF are grateful for her continued support and when we asked her why she has volunteered all these years Ruth said, "My Father died in 1950 of kidney failure. Back then, there was very little known about kidneys or how they could be fixed. In 1954 my brother-in-law died from kidney damage.
The research the foundation does has given patients hope and life instead of a sentence of certain death.
My small contribution is payback for all the good NKFF does for so many people, today. Wish they had been around to help my Dad."
Florida Kidney Screening - A Free Kidney Health Screening
The National Kidney Foundation of Florida's new screening program will educate you about the kidneys, tell you your risk factors for kidney disease, and help you to take steps to keeping your kidneys healthy and reduce the risk of developing kidney disease in the future.
Screening includes: Risk survey, body mass index (BMI), blood pressure check, free educational materials, opportunity to speak with a health care professional and for those at-risk - a urinalysis and creatinine check. For more information, please contact or send us an e-mail nkf@kidneyfla.org.
Richard K. Salick Scholarship
The National Kidney Foundation Richard K. Salick Scholarship Fund is for graduating high school or home schooled seniors or students currently enrolled in accredited universities who exemplify the characteristics of Rich Salick through academics and active volunteer community service.
This scholarship was put in place to recognize students that have shown a quality of giving back to their community. The program's goals are to provide college tuition assistance to those students who are already making a positive difference in their community, and to inspire others to do the same.
Every Labor Day during the Rich Salick Surf Festival we will announce the amount of money that we will be awarding the applicants with. Submit your application by December 31st. Applications will be submitted online through NKFsurf.com.
Donate Clothing and Household Items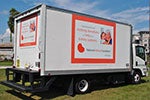 Your unwanted, unused, and unneeded clothing and other household items can assist our programs and is a great way for anyone to help. For over 30 years, NKFF has partnered with Sunshine Thrift Stores and Collection Services Management in the solicitation, collection, and distribution of gently used items as just one of our fundraising programs. Outsourcing the management of this program to a specialist such as CSM (FL SS#36424) allows for NKFF to remain focused on core competencies, mission and programs. Customers wishing to participate may drop off their items or participate in our rotational curbside service program and receive a tax deductible receipt for their donations. The donations are sold to local Sunshine Thrift Store locations and the proceeds are used to fund NKFF programs and services. For more information on the clothing donation program visit NKF Truck Pickup Service or call 877-448-2653. For more information on Sunshine Thrift Stores, visit Sunshine Thrift Stores or call 813-831-4377.
A long-term illness followed by kidney failure takes its toll both physically and financially on kidney patients. The NKF of Florida provides assistance to Florida patients in need. Requests can be made for assistance with medications, transportation to and from dialysis, and emergency one-time grants. To apply for these funds, patients must contact their renal social worker and complete an application.
Program Guidelines
Other Community Resources
Submit Online Application (Social Workers Only)