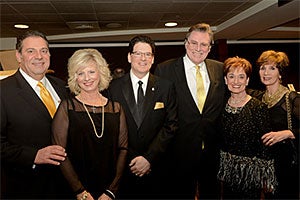 Thank you to all who joined us on March 7, 2015 for our Kidney Gift of Life Gala at Heinz Field's West Club Lounge! Make sure to save the date for next year!
The night featured a VIP Reception to honor our 2015 Gift of Life Awardees. This year's Gift of Life Awardees were: Mark Costanzo, President, Renal Therapies Group of Fresenius Medical Care; Dr. David Levenson, Section Chief, Renal Division and Vice-Chair of Medicine, UPMC Shadyside; Clinical Professor of Medicine, University of Pittsburgh School of Medicine; Medical Director, DaVita Pittsburgh Dialysis Unit; and, Partner, Partners in Nephrology and Endocrinology (PINE); Dr. Richard L. Simmons, Distinguished Service Professor of Surgery, Chairman Emeritus, Department of Surgery, Medical Director, UPMC; and James Conner, University of Pittsburgh Sophomore Running Back. The awardees epitomize the profound commitment that is essential in providing the best quality of life for those affected by chronic kidney disease. More Information
Mark Your Calendar!
Thank you so much to everyone who supported our May 19th NKF Golf Classic that was held at Valley Brook Country Club. The event was a huge success with 43 foursomes and 16 wonderful sponsors who helped us raise funds - and more importantly - raise awareness about CKD!
We look forward to hosting everyone again next year! Mark your calendars as the NKF Golf Classic will return to Valley Brook Country Club on Monday, May 18, 2015! We hope to see you on the greens! Please contact Melissa.Sidick@kidney.org for more information.
The Kidney Walk is the nation's largest walk to fight kidney disease. Held in nearly 100 communities, the event raises awareness and funds lifesaving programs that educate and support patients, their families and those at risk. Thank you so much to those of you who supported our November 2, 2014 Pittsburgh Kidney Walk that was held at the Pittsburgh Zoo & PPG Aquarium. The day was full of fun and excitement - a true celebration of life with nearly 2,500 attendees! The 2014 Kidney Walk season was the most successful one yet! We THANK YOU for your support!
2015 is right around the corner and we look forward to hosting all of you at the Pittsburgh Zoo & PPG Aquarium next November! Be sure to keep an eye out for the save the date! Please contact Melissa Sidick for more information.
The National Kidney Foundation's Your Kidneys & You program was developed to raise awareness among the general public and individuals at risk for kidney disease by educating them about kidneys, risk factors for kidney disease, and what can be done to protect kidneys.
Your Kidneys & You is a volunteer-led presentation on kidneys, risk factors and preventative action steps, with a focus on where to turn for more information. Volunteers are trained by NKF local offices to deliver this presentation to the general public, corporate audiences and at-risk populations.
You may request a Your Kidneys & You presentation for your workplace, civic organization, school, club or place of worship by calling Cherie Peters at (800) 261-4115 x12.
If you are interested in volunteering to provide Your Kidneys & You presentations, please contact Cherie Peters at (800) 261-4115 x12 to arrange a training session.
Donate your old car, van, truck, or boat to help improve the lives of the millions of Americans affected by kidney disease. Donate today!

#15234
Join Hands With the NKF to Help the 26 MILLION AMERICANS Fighting Kidney Disease.
You will make a difference!
By contributing all or a portion of your United Way gift to the National Kidney Foundation Serving the Alleghenies (#170), you will help us provide free, community-based KEEP Healthy kidney health checks designed to detect kidney disease early…when there is still time to slow, or even halt, the progression of this serious public health epidemic.
Maximize the impact of your gift! Check with your employer to see if they offer a matching gift program.
Choose Contributor Choice Code #170 - and know that thousands of kidneys will thank you!
Patient & Family Services
Patient Information Packets - Free information packets are available for patients and their families. Contact Cherie Peters at (800) 261-4115 x12 to request a packet to be sent to your home. Packets available include:
General Kidney Health Information
Early CKD (Stages 1-3)
CKD Stage 4
CKD Stage 5
Dialysis
Transplantation
Nutrition and Diet
Transportation Program - Pennsylvania residents who meet eligibility requirements are reimbursed for a portion of the transportation costs associated with traveling to and from dialysis treatment three times a week. This program is run in collaboration with, and within the guidelines of, the Pennsylvania State Renal Disease Program.
Please contact your social worker at your dialysis clinic for an application or click here to download an application.
Kidney Living Magazine - Kidney Living is the National Kidney Foundation's FREE magazine for dialysis patients! Each issue features stories from people who are living well on dialysis, as well as tips for coping with kidney disease, healthy eating, finding support, and so much more. Sign up today at Kidney Living Magazine or contact Cherie Peters at (800) 261-4115 x12.
Peers Lending Support - Peers Lending Support is our free, national telephone-based support program that connects those experiencing CKD (Stage 4, dialysis patients, and transplant recipients) with an NKF-trained mentor who has been through a similar experience. For more information on Peers Lending Support, call toll-free 1-855-NKF-PEER (653-7337) or visit our Peers Lending Support page.
NKF Cares - NKF Cares is our toll-free phone and email patient help line. Trained professionals provide information, support and resources to people affected by CKD (patients, family members) on a wide variety of topics. Call toll-free 1-855-NKF-Cares (653-2273).
Medical Alert Jewelry - MedIds.com (318) 397-8441 will offer a 15% discount to needy patients if the patient uses the code "NKF2012".
Medic Alert (888-633-4298) will waive the fee if the patient submits a letter from his/her doctor on the doctor's letterhead and proof of monthly income. These documents must be submitted along with the company's application form.
American Medical ID (800-363-5985) will provide the stainless steel version for free with a letter from the doctor on the doctor's letterhead. The original letter has to be mailed to the company; it cannot be a photocopy or a fax.
Educational Literature - The National Kidney Foundation delivers patient programs and resources in print, online and through multi-media. We offer a vast library of printed publications on a number of different topics. Educational literature and materials can be found online at the NKF Store (add link to http://nkf.worksmartsuite.com/UserContentStart.aspx). Many of these brochures are also available through your local office by contacting Cherie Peters at (800) 261-4115 x12.
Additional Resources - More information to help patients can be found at our Patients & Family Resources page.
CME/CE Activities - There are numerous opportunities for continuing education online by clicking CME/CE Activities. The National Kidney Foundation is Accredited with Commendation by the Accreditation Council for Continuing Medical Education (ACCME).
CKD Primary Care Physicians Initiative - The NKF's CKD Primary Care Physician's Initiative is a 5-year demonstration project that will drive the adoption of clinical practice guidelines aimed at improving kidney health related outcomes into the primary care workflow, develop CKD metrics including HEDIS performance measures and ICD-10-CM codes for billing, and develop models that demonstrate a clinical and economic return on investment for interventions related to early identification and management of CKD for insurance companies, employers, doctors and patients. To request a PCP information packet, please contact Cherie Peters at x12.
Educational Resources - The National Kidney Foundation delivers professional programs and resources in print, online, through multi-media and in meetings. We offer a vast library of printed publications on a number of different topics. Educational literature and materials can be found also be found online at the NKF Store.
Additional Resources - A variety of resources are designed for renal professionals, including our smartphone applications, Spring Clinical meetings, Living Well DVD series and professional journals. Please visit the Professionals page of our website for more information.
Special thanks to our 2014-2015 Annual Corporate Partners: