Do You Need a Kidney Health Check?
Come to the National Kidney Foundation's new KEEP Healthy program and find out. One in three Americans is at risk for developing kidney disease. KEEP Healthy will help you learn if you're the one.
Who's at Increased Risk for Kidney Disease?
If you have one or more of these risk factors, you should get a KEEP Healthy check-up:
Anyone with high blood pressure or diabetes
Anyone with a family history of kidney disease or diabetes or high blood pressure
African-Americans, Hispanics, Asians, Pacific Islanders and Native Americans.
Anyone who is 60 or older
Individuals who are obese
What is KEEP Healthy?
KEEP Healthy is the National Kidney Foundation's community-based initiative to educate about the kidneys, risk factors for kidney disease, and steps to take to keep kidneys healthy and reduce risk. It is designed to have the greatest impact on reaching the 73 million Americans that are at risk due to rapidly rising rates of diabetes, high blood pressure and obesity. KEEP Healthy raises awareness, prevents kidney disease and ultimately drives health care costs down.
The program consists of a 15-20 minute check-up where each participant receives test results, educational materials and information on next steps to take to stay healthy. A KEEP Healthy check-up is provided by a team of trained NKF volunteers.
What does a KEEP Healthy Check-up Include?
Risk Survey
Body Mass Index (BMI): Height and Weight Measurements
Blood Pressure Check
Free Educational Materials
Opportunity to Speak with a Health Care Professional
What Should You Do after Getting a KEEP Healthy Check-up?
When you visit your doctor, share what you've learned about your risk factors for kidney disease
Follow healthy lifestyle advice
If you have any questions, call our NKF Cares patient hotline toll-free at 855.NKF.CARES (855.653.2273)
Where can I get a KEEP Healthy Check-up?
KEEP Healthy is designed for large health expos and events where NKF can provide check-ups to at least 100 people or more. Some suitable venues are:
Large Health & Fitness Expos
Large Health Fairs
Large Employer Groups
Hospital Health Systems
Managed Care Organizations
Corporate Annual Meetings
Colleges and Schools
Senior and Community Centers
Boys and Girls Clubs
YMCA's
Outdoor Events
How Can I Volunteer with KEEP Healthy?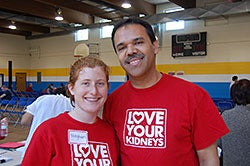 We are always looking for anyone interested in volunteering. You are not required to have a medical background. As a general volunteer all you need is a willingness to help others and we'll provide you with all the training that you'll need. Technical volunteers and medical professionals are needed to take blood pressure measurements and provide consultations. It takes about 25 general and technical volunteers, including medical professionals, to hold a KEEP Healthy check-up that serves 100 people. To volunteer, contact Paul McGinley at (202) 244-7900 ext. 20.
How do I Request a KEEP Healthy Check-up for My Event?
Please tell us all about your event by submitting an event request form. We will review your request and determine if we can participate. There are also a few things to keep in mind:
The typically amount of space required is 800 sq ft with a minimum of 4 six foot tables and 26 chairs. The set up really depends on how many people are expected to participate in the check-up.
We normally ask for at least two months advance notice so that we can recruit the required volunteers.
For questions and further information, please contact Paul McGinley at (202) 244-7900 ext. 20
Learn more
High blood pressure and kidney disease
Diabetes and kidney disease
Diet and kidney disease
Exercise and kidney disease
Important facts about kidney disease
Local Sponsors: