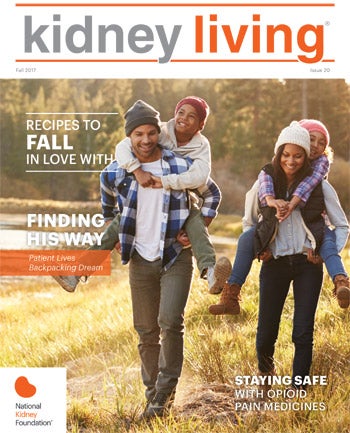 Kidney Living is the National Kidney Foundation's FREE magazine for dialysis patients!
Each issue features stories from people who are living well on dialysis, as well as tips for coping with kidney disease, healthy eating, finding support, and so much more.
The Fall Issue is Here!
Features:
Recipes to Fall in Love With
Finding his Way: Backpacking on Dialysis
Staying Safe with Opioids
Learn More:
Kidney Living Voices
Kidney Living Voices gives readers a chance to tell us what you think and have your voices heard. Please share your comments here in response to the question below. We will choose selected responses to publish in Kidney Living. Check back for new questions to respond to for each quarterly issue of our newsletter.
Contact Kidney Living
Do you have comments, questions, or suggestions for future articles? Please email us at kidneyliving@kidney.org.
Want to advertise in Kidney Living?
View Past Issues of Kidney Living Online