Mission Statement
The Council of Advanced Practitioners (CAP) functions as a professional membership council within the framework of the National Kidney Foundation (NKF) in the development of health policies that impact the delivery of patient care and professional practice. CAP's mission is to serve as an advisory and resource for the National Kidney Foundation (NKF), NPs and PAs and the community in advancing the care, treatment and education of patients with kidney disease and their families. CAP is an advocate for professional development, research and health policy for its members.
Goals of the NKF-CAP
The goals of the Council of Advanced Practitioners are:
To provide a diversified, advanced educational curriculum for the nephrology advanced practitioner.
To support the growth of advanced practitioners coming to nephrology and those already in practice.
To educate the public about this growing sector of the nephrology team.
To advocate for health policies and legislation that support sound practice and good outcomes for kidney health professionals and patients.
The council hopes to elevate the voices of PAs, NPs and CNSs in nephrology to better serve their patients, enhance their practices and educate themselves on innovations in research and patient care. CAP will represent PAs, NPs and CNSs in Nephrology on a national level while continuing to connect with the broader community.
CAP will work within the NKF to educate Physician Assistants, Nurse Practitioners and Clinical Nurse Specialists with lectures and seminars at NKF meetings directed to the advanced practitioner. It will be a resource for any advanced practitioner looking for expertise in kidney-related problems. It will continue to recruit volunteers to join NKF initiatives, including national screening programs such as the Kidney Early Evaluation Program (KEEP).
Council of Advanced Practitioners Executive Committee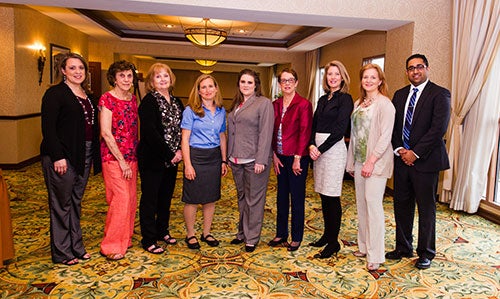 The currently appointed CAP Executive Committee officers are comprised of:
Chair
Secretary-Treasurer
Publications Chair
CE Chair and and Co-Chair
Member-At-Large
Research Chair
The CAP National Membership will elect officers of the Executive Committee, starting in the fall of 2009. The Executive Committee will meet twice a year to set CAP goals and to conduct the Council's business. Executive Committee meetings are held during the NKF Spring Clinical Nephrology Meetings and in the fall each year. Executive Committee members also serve on various ad hoc committees to develop special projects and position papers to further the goals, priorities, and interests of CAP.
The Executive Committee members are listed below. Please feel free to contact them at any time to provide your ideas, volunteer for a special project or obtain additional information.
Print committee list
CHAIR:
Catherine Wells, DNP, ACNP, CNN-NP, FNKF
(601) 984-5670
cwells@umc.edu
Chair-Elect
Mandy Trolinger, MS, RD, PA-C
(303) 799-8760
mtrolinger@denverneph.net
Immediate Past Chair
Tricia A. Howard, MHS, PA-C, DFAAPA, FNKF
(912) 210-0748
tricia.howard@comcast.net
Secretary
Sean George, MHS, PA-C
(405) 921-8270
sgeorge4@gmail.com
CE Co-Chair
Elizabeth Evans, RN, MSN, DNP
(505) 998-7400
beth@renalmed.com
CE Co-Chair
Darlene Dobkowski, PA-C
(201) 264-6100
dld201022@gmail.com
Public Policy Chair
Lynn Poole, FNP-BC, CNN
(703) 790-1383
clpoole@verizon.net
Publications Chair
Jane Davis, DNP, CRNP, MSN
(205) 934-5944
jsdavis@uab.edu
Research Chair
Alexis Reed Chettiar, MSN, ACNP-BC
(510) 841-4525
alexis.chettiar@yahoo.com
Outreach Chair
Della Connor, PhD, RN, FNP-BC
(936) 465-4066
delconnor@hotmail.com
NATIONAL STAFF:
Kiley Thornton, MPA
Professional Membership Director
National Kidney Foundation
30 East 33rd Street
New York, NY 10016-5337
Ph: (800) 622-9010 x174
Fax: (212) 689-9261
kiley.thornton@kidney.org
Sydney the Kidney Project
Sydney the Kidney has been traveling around the U.S. to learn more about kidney disease and promote kidney health awareness. You can follow Syd on his travels below. Just click on a location for more information.
If you want Syd to visit you, please contact his travel agent, CAP member Deb Hain at haindeb@aol.com Sydney brings kidney health information, a traveling journal and love.
| | |
| --- | --- |
| SEE WHERE SYDNEY HAS VISITED! | |
---
DENVER, COLORADO

Sydney is in Denver visiting Dr. Michael Wachs and Dr. Igal Kam, who are transplant surgeons. Sid learned that many patients feel that a successful kidney transplant provides a better quality of life because it allows greater freedom and often is associated with increased energy levels and a less restricted diet.

While in Denver, Sid went on a Kidney Walk to help raise funds for kidney research at the NKF Kidney Walk. With more research, Sid hopes to make kidney disease a thing of the past.

Syd also piloted his own plane and went to a Colorado Rockies baseball game!

Barbara Weis-Malone
Denver, CO

WASHINGTON, D.C.

Sydney went to Capitol Hill to discuss kidney disease and health reform with Congress. He wants to make sure that kidney donors can get health insurance and that kidney recipients can get immunosuppresive drugs.

Syd went to Senator Blanche Lincoln's office to inform her that she will be presented with the first-ever Council of Advanced Practitioners Nostradamus Award for her support of kidney patients.

Kim Zuber
Washington, D.C.

GREENSBORO, NORTH CAROLINA

Sydney visited Carolina Kidney Associates and learned about regular check-ups. The office displays an artist's rendering of the inside of the kidneys.

Sydney sees his physician assistant and nurse practitioner regularly to monitor his blood pressure and kidney function. He learns about his medications and takes them regularly.

Sydney reminds everyone that hand washing is important in preventing the spread of infection. And, when he is not able to wash his hands, Sydney helps prevent the spread of infection by using hand sanitizers.

Marty Bergman
Greensboro, NC
TEXAS

Sydney is visiting Texas. He loves the food but has to be careful of the guacamole (too much potassium) and the beans (a lot of phosphorus) to maintain his sleek, curvy figure.

Laurie Benton
Temple, TX