The Excellence in Kidney Transplantation Award was established to recognize a scientist or clinician scientist whose exceptional research has contributed novel insights in or resulted in improved access to kidney transplantation. The award embodies the dedication of the National Kidney Foundation to help people navigate the challenges of kidney disease, organ donation and transplantation. The 2021 recipient is Krista Lentine, MD, PhD.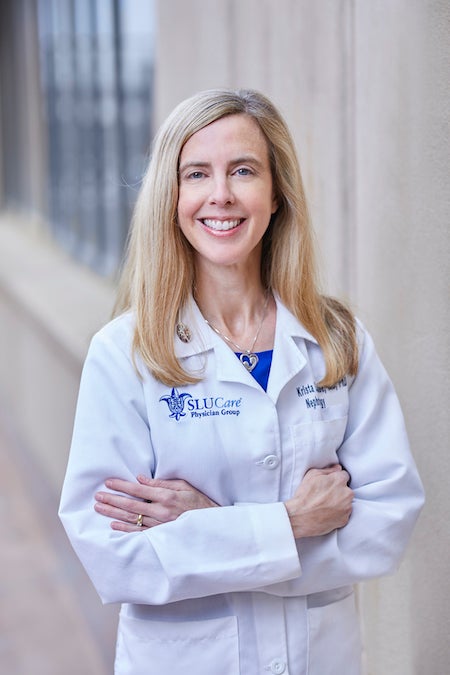 Krista Lentine, MD, PhD, is Medical Director of Living Donation, Co-Director of Clinical Research, and Mid-America Transplant/Jane A. Beckman endowed chair at Saint Louis University.
Dr. Lentine's professional service includes robust involvement in the OPTN/UNOS Living Donor Committee (7 years, including chair term) and Policy Oversight Committee. She co-chaired a 'Kidney Disease: Improving Global Outcomes' (KDIGO) work group on Living Donor Evaluation and Care and is first author of the 2017 guideline publication. She is co-chair of the American Society of Transplantation (AST) Community of Practice Executive Committee and serves on the American Society of Nephrology (ASN) Quality committee. She was co-chair and first-author of an American Heart Association (AHA) scientific statement on cardiac evaluation in transplant candidates, and serves on multiple AHA, KDIGO and AST work groups related to transplant recipient care.
Krista has directed the NKF Spring Clinical Meeting (SCM) transplant physicians' program and kidney transplant course. She received the NKF Shaul G. Massry Award at NKF-SCM 2018. She is a member of her local NKF medical advisory board and joined the Eastern Missouri chapter executive director in testifying at hearings that supported passage of the MO Living Donor Protection Act.
Dr. Lentine's research agenda is grounded in applying novel linkages of national transplant registry data to address topics in transplant outcomes, economics and policy; she also leads trials and observational cohort studies. Current projects supported by NIH and foundation funding relate to reducing organ discards and improving recipient and living donor outcomes. She is an associate editor of the American Journal of Transplantation, section editor of Current Transplantation Reports, and lead editor of a new (fall 2020) Springer textbook on living donor care.
Krista's work is motivated by the awe-inspiring altruism of organ donors and the courage, hope and gratitude of those who seek and receive transplants.

Past Excellence in Kidney Transplantation Award Recipients:
2020 - Gabriel Danovitch, MD
2019 - Matthew Cooper, MD