The Excellence in Kidney Transplantation Award was established to recognize a scientist or clinician scientist whose exceptional research has contributed novel insights in or resulted in improved access to kidney transplantation. The award embodies the dedication of the National Kidney Foundation to help people navigate the challenges of kidney disease, organ donation and transplantation. The 2021 recipient is Krista Lentine, MD, PhD.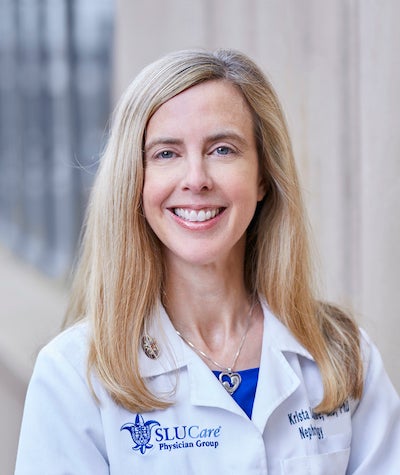 Krista Lentine, MD, PhD, is Medical Director of Living Donation, Co-Director of Clinical Research, and Mid-America Transplant/Jane A. Beckman endowed chair at Saint Louis University.
Dr. Lentine's research, policy and advocacy work shaped the development of a new framework for the evaluation, selection and informed consent of living donor candidates. Her studies of living donor health outcomes – including three publications in The New England Journal of Medicine – informed novel tools for tailored risk assessment and shared decision-making. Krista's work impacted the first Kidney Disease: Improving Global Outcomes (KDIGO) international guideline on living donor evaluation as well as U.S. policies for living donor care.
Along with efforts to expand opportunities for safe living donation, Dr. Lentine's research agenda seeks to improve use of organs from deceased donors, reduce organ discards, and improve transplant patient outcomes. She publishes actively on topics related to organ donation, epidemiology and health economics, serves as Associate Editor for the American Journal of Transplantation, and is chief editor of a 2021 textbook on "Living Kidney Donation ‐ Best Practices in Evaluation, Care and Follow‐up".
Krista was co-chair and first author of an American Heart Association (AHA) scientific statement on cardiac evaluation of transplant candidates. She has directed the NKF Spring Clinical Meeting (SCM) transplant physicians' program and kidney transplant course, and received the NKF Shaul G. Massry Award at NKF-SCM 2018. She is an engaged member of her local NKF medical advisory board and an NKF Transplant Research Roundtable workgroup.
Dedicated to translating research to patient-centered policy, Krista testified along with local NKF Chapter Executive Director at the Missouri State House and Senate in support of the Missouri Living Donor Protection Act – testimony that helped the bill become law in summer 2020. She previously chaired the Organ Procurement and Transplantation Network (OPTN)/United Network for Organ Sharing (UNOS) Living Donor Committee, and now serves as co-chair of the American Society of Transplantation (AST) Living Donor Community of Practice, Senior Staff of the Scientific Registry of Transplant Recipients (SRTR), member of the National Living Donor Assistance Center (NLDAC) Advisory Group, and member of the American Society of Nephrology (ASN) Policy and Advocacy Committee.
"I'm deeply honored to join esteemed past awarded colleagues and future recipients as we work together with the NKF and other organizations to make the gift of life possible for more patients in need," Dr. Lentine said. "This shared mission honors the altruism of organ donors, and the courage, hope and appreciation of those who seek and receive transplants."
Past Excellence in Kidney Transplantation Award Recipients:
2020 - Gabriel Danovitch, MD
2019 - Matthew Cooper, MD