This award was established in honor of Celeste Castillo Lee, a longtime advocate for patient-centered care and empowerment. It is the highest honor given by the National Kidney Foundation to a distinguished kidney patient who exemplifies NKF's mission and Celeste's legacy of putting patients at the center of all aspects of healthcare through their involvement with NKF and community partners. The 2021 recipient is Curtis H. Warfield.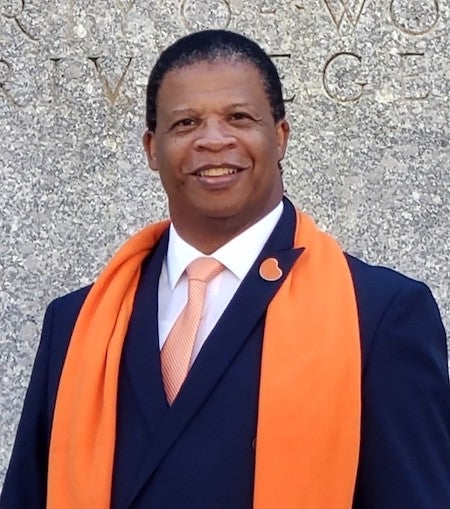 Curtis Warfield is a Senior Quality Analyst for the State of Indiana. In 2012 he was diagnosed with Stage 3 Chronic Kidney Disease (CKD) due to FSGS. In December 2014 he started peritoneal. His daughter tested to be a living donor. Unfortunately she was not the best suitable match. His daughter's college sorority sister decided to be tested, "just because" she wanted to help. She turned out to be a perfect match. On January 8, 2016 Curtis received her kidney and a new lease on life.
Curtis, a passionate advocate for CKD, organ donation and living donors provides peer counseling with National Kidney Foundation (NKF) Peer Program. A member of NKF's Kidney Advocacy Committee (KAC) he advocates on Capitol Hill and in Indiana with members of congress for kidney and organ donor issues. Curtis advocates with other kidney, organ donor and chronic disease networks supporting patients, families and caregivers. Curtis serves on several Technical and Medical Review panels. Curtis does public speaking events, writes articles and blogs and media interviews about CKD and organ donation. In 2020, Curtis was appointed to the Board of Directors of the National Kidney Foundation of Indiana and Home Dialyzors United. Curtis has a B.S. Degree from Central Michigan University, and a M.S. degree from Oakland City University. Curtis is married, has 4 adult children, and one grandchild. His hobbies are photography, music and sports. He is active at his church and volunteers throughout the Indianapolis area.
Past Celeste Castillo Lee Patient Engagement Award Recipients:
2020 - Erich Ditschman
2019 - Mary Baliker
2018 - Risa Simon
2017 - Derek Forfang