by Lora Wilson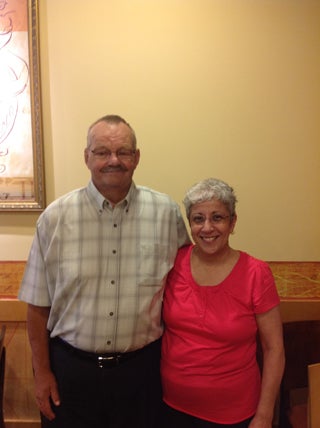 Here's the story of a lovely lady who was bringing up two very lovely girls and a man named Johnston, who was busy with three boys of his own. Much like TV's Brady Bunch, Patty and Glenn Johnston formed a large blended family when they tied the knot 18 years ago.
"We were married for two years before I knew he had diabetes," says Patty, but she was aware that Glenn had high blood pressure. When his doctor suggested that he might need to go on insulin, Glenn lost weight by exercising and watching his diet to get back in control. However, diabetes complications continued to progress resulting in increasing creatinine numbers and a coronary artery blockage that required a stent.
Four years ago, Glenn's doctor suggested that he consider a kidney transplant. Neither of them realized that Glenn's renal disease had gotten so serious. Patty recalls talking in the car after that memorable appointment. "Was that visit for real?" she asked her husband. They were in total shock that Glenn had stage 3 kidney disease.
In January 2011, Glenn completed the process to qualify and was listed for a kidney transplant. His step-daughter Becky wanted to be considered as a donor, but she was eliminated due to her history of kidney stones. Glenn has been doing peritoneal dialysis at home since May 2012, and continues full-time employment on the road crew for the township despite dialysis-related fatigue and blood in his eyes due to retinopathy, another diabetes complication.
After watching Glenn wait for a year without receiving a transplant and finally having surgery to create an access for peritoneal dialysis, Patty wondered whether she could be his donor. "I just wanted to fix it," she said. "If I have two and I can help someone, that's what I want to do."
The couple attended a World Kidney Day patient forum where a transplant surgeon presented a video from one of his surgeries. Patty was enthralled watching as he connected the new kidney "and it turned pink! It reminded me of seeing my first grandchild born." Patty began talking with other living donors about the possibility of being Glenn's donor, but she was concerned about who would care for Glenn after the surgery.
The Johnstons are fortunate to have a devoted church family that promised to look after the couple in the post-transplant period, so Patty went to be evaluated as Glenn's donor. She was initially encouraged to find that their blood types were the same. Then a 24-hour urine collection showed that her volume of urine was insufficient. The test was repeated with the same result.
"I didn't expect to be turned down for my size," Patty said, "but Glenn is such a big guy. "Apparently, Patty's small kidney wouldn't be large enough to give him longevity as a transplant recipient.
Patty recalls receiving the letter from the transplant center that confirmed the bad news. "I looked at it and looked at it again. I was mad at myself. I felt like I let him down. I was upset that I couldn't help him. I couldn't help anyone." Once again, the Johnston's church friends came to her aid, reminding her that God obviously had a different plan for her and for Glenn.
In 2011, living donors accounted for 20% of the 28,538 kidney transplants performed in the U.S. according to the Organ Procurement and Transplantation Network (OPTN). Biological relatives of the recipient accounted for 53% of living donors, with siblings being the most common donors, followed by children and then parents.
Surprisingly, almost half of living donors were not biological relatives. Among these, OPTN reported the highest numbers from non-biological, other unrelated directed donors. These would be friends, co-workers, neighbors and acquaintances of the recipient who made up 22% of the living donors. Spouses, like Patty, accounted for 12% of the biologically unrelated donors.
These statistics underscore the fact that a biological relationship is not required to be a good match for patients like Glenn who are waiting. It is important for kidney patients to share their story within their network of friends and associates to let these potential donors know the facts about living donation.
Patty has now accepted the fact that she wasn't meant to be Glenn's donor, but she is still glad that she was evaluated. "When someone you love has kidney disease and needs a transplant, you need to do everything you can for them. If you get turned down, then God has another plan."
Patty encourages others in her situation who are in good health to be evaluated as kidney donors. "If you don't get tested, you will never know whether you would have been able to help."