A is for Appetite
(A listing of my side effects from kidney disease and transplant medicines, done in excruciating rhyme, with apologies to O, Q, X and Y)
By Jack Fassnacht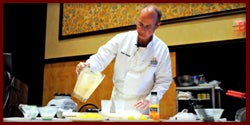 A is for appetite that once went away
But with my new transplant it's come back to stay
B is for the bitter, metallic taste on my tongue
I sometimes had pre-transplant, like licking a rung
C is for colds which I get every so often
So I wash my hands frequently with soap that will soften
To read more of Jack's transplant rhyme click here.
Knowing Your Immunosuppressive (anti-rejection) Medications
By Pradeep Kadambi, M.D.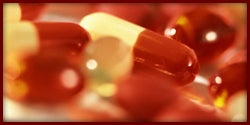 First of all, hearty congratulations to you on receiving an organ transplant. You and your loved ones, and your health care professionals have invested a lot of time and effort to make this happen. It is our collective responsibility to make sure that the transplant procedure is a success and that you stay healthy for a long time! To achieve this, you have to make a commitment to take care of yourself, by taking the medications as prescribed and adhering to the advice of your transplant professionals. Remember, you were not born with the transplanted organ and hence your body will try to reject it, and the immunosuppressants will help your body to prevent the rejection.
To read more about the importance of anti-rejection medications click here.
Participate in a Telephone Conference
Transplant recipients of all organs, as well as candidates and family members, are invited to join in a free telephone conference on Tuesday morning, June 17th, about living well on immunosuppression medicines. Click here to find out more.
Keeping Track of Kidney Function after a Transplant of any Organ
By Jaime Myers, RN, BSN, CCTC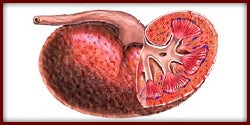 It's important to keep track of the health of your kidneys in order to discover any signs of damage as early as possible. For some simple tips on keeping your kidneys healthy click here.
Be Aware of Heat Illnesses
Chris L. Wells, PhD, PT, CCS, ATC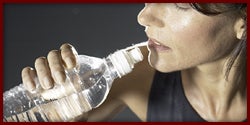 Heat illnesses are commonly associated with athletic competition in hot, humid weather, but can fall upon a spectator as well. If the body's ability to cool itself is insufficient or fails it leads to an increase in body temperature. Heat illnesses can be classified into three general categories: heat cramps, heat exhaustion and heat stroke. Risk factors for heat illnesses include: age (children and adults over 50), history of a chronic disease, poor acclimation, poor sleeping habits, intensity of exercise, recent illness, poor physical conditioning, and medications including diuretics, hypertensive medications, antihistamines, and antidepressants to name a few.
Find out more about how to protect yourself from heat illness click here
Spotlight on Transplant Games
By Rebecca Hays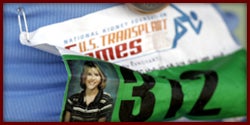 The Transplant Games will take place from July 11-16, 2008. It's not too late to participate in this extraordinary event. For more information click here
Read about the experiences of two women who have actively participated in previous games. Click here to get an insider's perspective
My Transplant Story
By Diane Current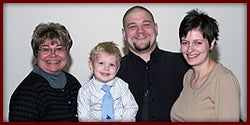 My name is Diane Current and I have hereditary nephritis "Alport's Syndrome." It was discovered when I was 30 years old. By age 36 I was on dialysis—but for only 8 months before I got the call for a transplant.
To read more of Diane's story click here