The National Kidney Foundation (NKF) offers a peer mentoring program that connects people who want support with someone who has been there.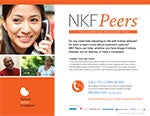 For your patients
A flyer describing the Peers program is available for distribution to your patients. Click here to download (PDF 353KB)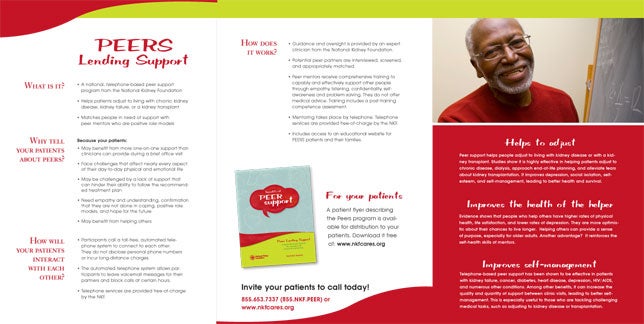 For clinicians
Download this announcement if you'd like to learn more about the program, or if you'd like to tell other clinicians about it. Click here to download (PDF 1.64MB)

Benefits of Peer Support
Download this clinical bulletin to learn more about evidence-based benefits of peer support in chronically ill patients. Click here to download (PDF 1.37MB)
Why tell your patients about NKF's Peers Lending Support?
Helps Patients Adjust
Studies show that peer support is highly effective in helping patients adjust to chronic kidney disease, dialysis, and kidney transplantation. It also helps them approach end-of-life planning, and alleviate fears about kidney transplantation. It improves depression, social isolation, self esteem, and self-management, leading to better health and survival.
Improves the Health of the Helper
Evidence shows that people who help others have higher rates of physical health and life satisfaction, and lower rates of depression. They are more optimistic about their chances to live longer. Helping others can provide a sense of purpose, especially for older adults. Another advantage? It reinforces the self-health skills of mentors.
Improves Self Management
Telephone-based peer support has been shown to be effective in patients with kidney failure, cancer, diabetes, heart disease, depression, HIV/AIDS, and numerous other conditions. Among other benefits, it can increase the quality and quantity of support between clinic visits, leading to better self management. This is especially useful to those who are tackling challenging medical tasks, such as adjusting to kidney disease or transplantation.