The Joel D. Kopple Award is an annual award honoring an individual who has made significant contributions to the field of renal nutrition. The 2021 recipient is Shivam Joshi, MD.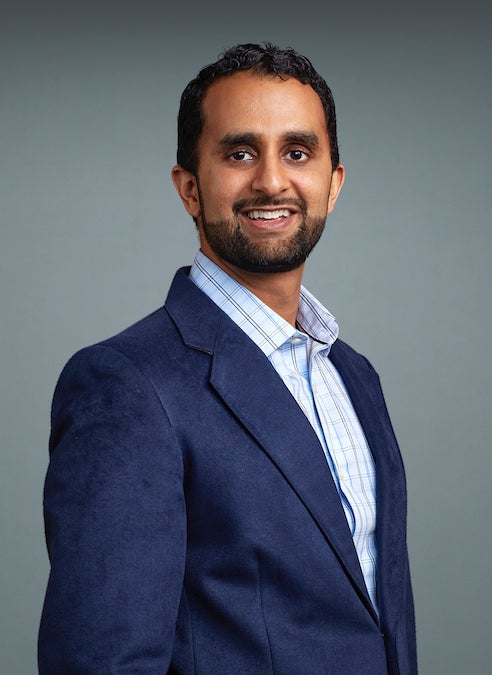 Shivam Joshi, MD, is an internist, nephrologist, and plant-based physician practicing at NYC Health + Hospitals/Bellevue in New York City. He received his BS from Duke University and his MD from the University of Miami. He completed his residency at Jackson Memorial Hospital/University of Miami and his nephrology fellowship at the Hospital of the University of Pennsylvania. He is also a clinical assistant professor at the New York University School of Medicine with research interests in plant-based diets, fad diets, and nephrology.
Dr. Joshi has made substantial contributions to the field of renal nutrition through research, education, mentorship, clinical practice, and outreach. Despite graduating from fellowship less than three years ago, he has published over a dozen articles on diet and kidney disease in prominent journals and been invited to speak more than two dozen times all over the globe. In total, he has published more than 40 peer-reviewed publications and has been featured in the New York Times and multiple popular podcasts. He is a co-editor of David Katz's upcoming textbook, Nutrition in Clinical Practice 4th Edition. He is also the youngest nephrologist to have received the Joel D. Kopple award. You can follow him on Twitter (@sjoshiMD).
Past Joel D. Kopple Award Recipients:
2020 - Dr. Connie Rhee, MD, MSc
2019 - Katy Wilkens, MS, RD
2018 - Angela Yee Moon Wang, MD, PhD, FRCP
2017 - Tilakavati Karupaiah PhD, APD, AN
2016 - Janeen Leon, MS, RDN, LD
2015 - Maria Chan, PhD, RD
2014 - Juan Jesus Carrero, PharmD, PhD, MSc, MBA
2013 - Jordi Goldstein-Fuchs, DSc, APN, RD
2012 - Nathan W. Levine, MD, FACP
2011 - T. Alp Ikizler, MD
2010 - Laura Byham-Gray, PhD, RD
2009 - Raymond Hakim, MD
2008 - Alison Steiber, PhD, RD, LD
2007 - Kamyar Kalantar-Zadeh, MD, PhD, MPH
2006 - Mary Pat Kelly, MS, RD, GNP
2005 - Jerrilynn D. Burrowes, PhD, RD
2004 - Judith Beto, PhD, RD, FADA
2003 - Linda M. McCann, RD, LD, CSR
2002 - Linda Moore, RD, LDN