The Joel D. Kopple Award is an annual award honoring an individual who has made significant contributions to the field of renal nutrition. The 2020 recipient is Dr. Connie Rhee, MD, MSc.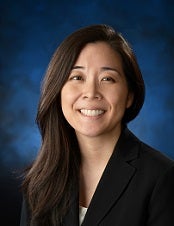 Dr. Connie Rhee, MD, MSc is a practicing nephrologist, physician-scientist, educator, and Assistant Professor of Medicine and Public Health at the University of California Irvine. Dr. Rhee pursued her clinical nephrology fellowship and postdoctoral research training at the combined Brigham and Women's Hospital/Massachusetts General Hospital nephrology fellowship program, and also completed a Master of Science in Epidemiology degree program at the Harvard School of Public Health. Dr. Rhee joined the University of California Irvine Division of Nephrology, Hypertension, and Kidney Transplantation as faculty in 2013, and she currently serves as the Division's Director of Clinical and Translational Research; Director of Dialysis Quality Improvement and Associate Director of Outpatient Hemodialysis; Associate Fellowship Program Director; and Acting Associate Chief.
Dr. Rhee has made substantial contributions to the field of renal nutrition across the areas of research, education and mentorship, clinical practice, and outreach. She has published >160 manuscripts to date, which include numerous studies centered on nutrition, metabolism, and endocrine derangements in kidney disease patients, and her research has been supported by multiple NIH, National Kidney Foundation, and American Thyroid Association grants. Dr. Rhee has also been a dedicated mentor to a wide cadre of trainees (clinical dietitians; graduate students in nutrition, public health, epidemiology, and biostatistics; fellows and residents; medical/pre medical students; and high school students), with aspirations of encouraging their interest in renal nutrition and metabolism. She also serves on the Editorial Board of two journals (Journal of Renal Nutrition and Metabolism, Clinical Journal of the American Society of Nephrology) and as the Associate Editor for three journals (Seminars in Dialysis, CardioRenal Medicine, BMC Nephrology).
Past Joel D. Kopple Award Recipients:
2019 - Katy Wilkens, MS, RD
2018 - Angela Yee Moon Wang, MD, PhD, FRCP
2017 - Tilakavati Karupaiah PhD, APD, AN
2016 - Janeen Leon, MS, RDN, LD
2015 - Maria Chan, PhD, RD
2014 - Juan Jesus Carrero, PharmD, PhD, MSc, MBA
2013 - Jordi Goldstein-Fuchs, DSc, APN, RD
2012 - Nathan W. Levine, MD, FACP
2011 - T. Alp Ikizler, MD
2010 - Laura Byham-Gray, PhD, RD
2009 - Raymond Hakim, MD
2008 - Alison Steiber, PhD, RD, LD
2007 - Kamyar Kalantar-Zadeh, MD, PhD, MPH
2006 - Mary Pat Kelly, MS, RD, GNP
2005 - Jerrilynn D. Burrowes, PhD, RD
2004 - Judith Beto, PhD, RD, FADA
2003 - Linda M. McCann, RD, LD, CSR
2002 - Linda Moore, RD, LDN